Network efficiency
To accelerate our transition to low-carbon logistics we need to develop new ways to cut emissions and increase efficiency. In 2020, one of the areas we focused on was cutting the number of kilometres we drive. We also published our first Green Bond, which highlights how we will spend the Bond's proceeds to increase efficiency and promote sustainability.
First delivery attempt update
Although over 90% of parcels are delivered on the first delivery attempt, we want to get it as close to 100% as possible. This will lead to more satisfied consumers and lower the number of kilometres we have to drive, cutting our CO2 emissions. One initiative we started in 2020 is providing consumers with an update on the PostNL app 15 minutes before the deliverer arrives. This is currently available through our food delivery network, and for Sunday and evening deliveries. The aim is to roll the service out fully during the course of 2021.
Removing air from parcels
We know that parcels sent by our customers often contain too much air, and transporting air is inefficient and unsustainable. In 2020, we introduced a campaign aimed at making e-tailers aware of how much air is contained in packaging, the impact of incorrect packaging, and ways to prevent it. This included a link to a PostNL website, where e-tailers could request information on how we can help them develop smarter packaging solutions.
During 2020, the average parcel in our delivery network was 2.5% smaller than in 2019, although the average parcel weight was comparable with 2019. This indicates that we transported less air in 2020. Assuming that 50% of an average parcel is air, we believe that this size reduction led to a 5% reduction in the air we transported within parcels. Based on the impact measurement pilot we have carried out, this reduction represents avoiding at least 1,500 tonnes CO2.
With research from Thuiswinkel.org, a Dutch digital commerce network, showing that on average a parcel is 50% air, it's vital that we continue to help e-tailers develop better packaging solutions. Not only does the right packaging offer better protection, it means we can fit more packages per roll container, it reduces CO2 emissions per package, it leads to less packaging material and waste, which benefits consumers.
In 2021, our fulfilment centre in Houten will work with teams from across the company to implement algorithms designed to optimise packaging, further reducing air and providing customers with better packaging options.
City Logistics
How do we reduce pressure on our inner cities, while cutting the emissions that impact air quality? Our answer is City Logistics, which focuses two approaches. emission-free delivery in city centres with our existing networks and developing a business model for consolidation via city hubs.
We have been working on planning and implementation of the transformation of logistical movements to and from city centres throughout 2020. We continued testing different electric vehicles on the operational en economic possibilities for scaling up in the near future. This will help us to deliver emission-free in 25 Dutch city centres by 2025, which we view as an important step on our journey to achieving our 2030 science-based targets (SBTs).
In Amersfoort, we now deliver all packages in the city centre with e-vehicles, and in 2021 we will research the scalability of package deliveries in several cities using light electric freight vehicles (LEFVs), which we tested throughout 2020. As well as being emission-free, LEFVs can carry up to three roll containers, which can be smart-packed at the sorting centre and loaded directly onto the vehicle at the city hub. This means the parcels are unloaded in the most efficient manner during the delivery run. LEFVs can also be ridden on cycle paths or roads, are highly manoeuvrable, and reduce congestion compared to vans.
City hubs
We made progress and currently deliver business goods emission-free at six city centres.
In 2020, we expanded our city logistics operations in The Hague and now provide bundled deliveries to some 70 locations in the city. The main advantage for customers is only having one deliverer at the door, rather than several throughout the day. And for the local environment, emission-free delivery means cleaner air. Using The Hague as an example, we are in talks with several large customers about rolling the model out in other cities across the country.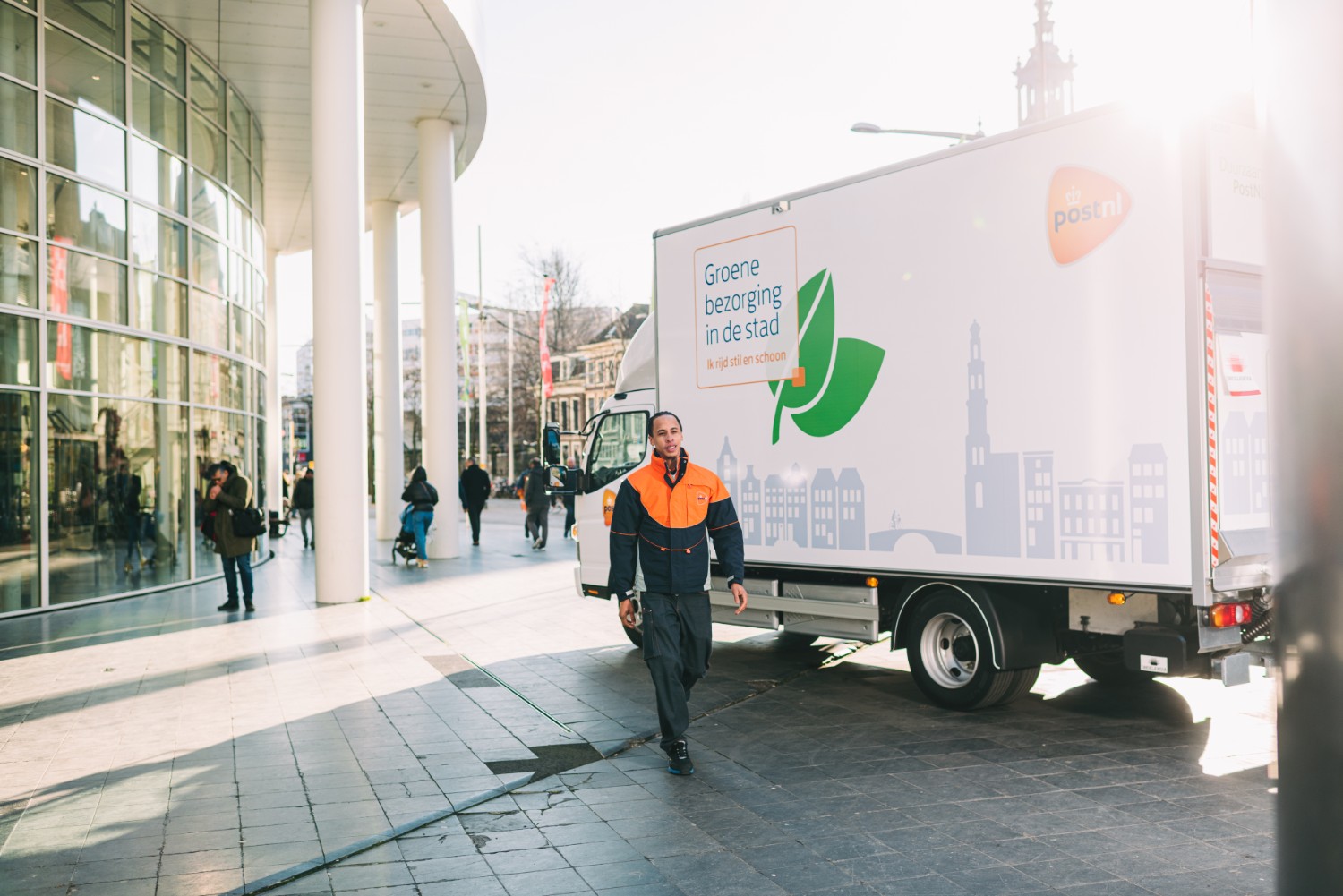 Impact of city hubs
Our City Logistics initiative helps make B2B logistics in the Netherlands more sustainable. Kam Jzi Wong is a program manager City Logistics. "We currently target mostly customers who verifiably want to make their logistics more sustainable. And who just like us want to find a balance between economic feasibility and sustainability. In 2020 we carried out an impact measurement to map the contribution of city hubs to the sustainable development of city logistics. We calculated the economic, social and environmental impact. The results show that consolidation through city hubs brings significant environmental advantages, with around a 70% reduction in CO2 emissions and a more than 90% reduction in fine dust and nitrogen. By pooling trips, we can increase the utilisation rate by 25%, which results in another 6% CO2 reduction. There are fewer traffic movements, which reduces congestion and increases safety, because there will be fewer accidents. We still need to research the economic effect, but the measurement has already given us useful insights and tools to further develop the case for city logistics for our customers."