Performance summary
Capturing growth, delivering value
Surge in e-commerce growth
One of the most notable consequences of the Covid-19 crisis was the surge in e-commerce growth, with the transition from offline to online accelerating. We have seen a change in consumer behaviour driven by the measures taken to combat the pandemic. At the same time, various customers and retailers accelerated their digitalisation programmes and are increasing their investments in e-commerce.
We delivered a record 337 million parcels in 2020, a 19% increase compared to 2019. We estimate around 25 million to be related to specific, non-recurring consumer spending from those transitioning from offline to online during the pandemic.
In the highly competitive environment, we managed to maintain our leading position while losing a small amount of market share, with a strategy of managing margins over volume. Our main challenge was to capture this e-commerce growth. Commercially, we collaborated closely with our e-commerce customers to manage volumes, while we also helped many smaller shops to go online, as they responded to a surge in online purchasing during the first wave. While in previous years we scaled up our processing capacity at a few peak moments, in 2020 we had to introduce a more structural scale up. During the first wave of the pandemic we processed many more parcels than on average, while at peak moments towards the end of the year volumes were significantly higher than those at the beginning of the year. The end-of-year peak in 2020 also began earlier and lasted longer than we typically see. This structural scale up included intensifying the use of our sorting centres, introducing additional vehicles and recruiting new colleagues. In addition, the flexibility of our networks and our logistical expertise played a crucial role in achieving our result.
Focus on the value of physical mail
At Mail in the Netherlands, performance was marked by two main developments. Accelerated volume decline in bulk mail volumes and a boost in greeting cards and mailbox gifts. Following the outbreak of Covid-19 in the first half of 2020, we experienced an accelerated decline in bulk mail volumes, which stabilised in the second half of the year. Many customers postponed direct mail campaigns until the fourth quarter of the year.
Driven by the lockdown measures, social distancing and a reduction in socialising became the norm. People started to sent more greetings cards and gifts using letterbox parcels in both the first and second wave of the pandemic, underpinning the value of connecting through physical mail. On peak days during the last few weeks of the year, we were delivering 14 million mail items across the Netherlands, which is more than 70% higher than we delivered on an average day in 2020.
To process the extra volumes, we added extra delivery days and post box collections, and opened sorting centres on Sundays. In December we also hired more people in our operations, for example to increase our sorting capacity and mail delivery.
And while we completed the integration of the postal networks of PostNL and Sandd ahead of plan, delivering the anticipated benefits and synergies, the pandemic meant we had to temporarily postpone a small percentage of cost-saving initiatives.
We continued to transform into a more e-commerce logistic service provider, with the share of e-commerce revenues growing by another 5% to 57% in 2020. This was driven by volume development and yield management initiatives at Parcels, combined with moderate price increases at Mail in the Netherlands.
PostNL

Progress on transformation

as indicated




2019, 2020
| Year ended at 31 December | 2019 | 2020 |
| --- | --- | --- |
| Share of e-commerce revenue | 52% | 57% |
| Parcel volume (in million items) | 283 | 337 |
| Addressed mail volume (in million items) | 1,742 | 2,054 |
Strong business performance at Spring
We saw strong revenue growth at Spring, boosted by accelerating e-commerce-related revenue both in Asia and Europe. We captured this growth partly because we continued to offer our services at the beginning of the pandemic, while other market players temporarily halted their operations. Part of this growth was an effect of increased online shopping due to Covid-19 restrictions in countries around the world. At the same time, international mail import volumes dropped during the pandemic, while export volumes grew.
Creating value for customers
Providing customer value is a key driver within the company, and we believe that during the pandemic we have demonstrated the many ways we achieve this. From providing webshops and e-tailers with logistic solutions that support their e-commerce business, to ensuring senders and receivers can connect and communicate through physical mail, our adaptability, reliability and resilience were demonstrated in 2020.
However, the growth of e-commerce during the Covid-19 pandemic placed unprecedented pressure on our networks. The unprecedented volume of parcels entering our network towards the end of the year meant we were forced to refuse some customer deliveries over a number of days.
Saying no to customers, especially in the festive season, was a hard decision to make. But it was taken to protect the health and safety of our employees, and the integrity of our network and processes. As always, we continue to work closely with customers and e-tailers to manage their expectations .
Across the company, the percentage of highly satisfied customers increased by 10% points to 37% in 2020. This exceeded our annual target of 29%. Despite continuous pressure on our business, which operated at significantly increased network performance levels for almost the entire year, our customer satisfaction score at Parcels was 83%. At Mail in the Netherlands, customer satisfaction levels increased to 83%. This was due to consumers appreciating that our service continued uninterrupted throughout the crisis, and the successful integration of both networks. We also saw significant growth in customer satisfaction at Spring in 2020. Our target for 2021 is to remain at 2020 levels for the share of highly satisfied customers.
PostNL

Customer satisfaction

as indicated




2019 - 2021
| Year ended at 31 December | 2019 | Target 2020 | 2020 | Target 2021 |
| --- | --- | --- | --- | --- |
| Share of highly satisfied customers | 27% | 29% | 37% | 37% |
| Share of satisfied customers | 80% | - | 83% | - |
We continued to develop and roll out new digital and data-driven solutions for customers, such as an address request option, which lets users quickly and easily collect addresses from their contacts. And we made good progress with the digitalisation of our products and services, which strengthen our competitive position and contribute to customer satisfaction.
On a broader level, we also saw a significant increase in our reputation score, to 73.9 from 67.1 in 2019. This is another example of how much our services were valued in 2020.
Protecting our networks and focusing on quality
Despite the strong volume growth, delivery quality at Parcels remained high throughout the majority of 2020, at 99% across our sorting and delivery processes in the Netherlands. During the year we communicated with customers through a range of channels to provide tips on how to inform consumers about the benefit of ordering in time, preventing an end-of-year sprint, and better managing the flow of parcels.
However, there were moments throughout the year when our network reached the limits of its capacity. During the volume peak towards the end of the year we were unable to collect all customer volumes.
This led to delays in consumer orders and adversely impacted out customers' experience, increasing the traffic to our customer service centre. We never want to have to refuse customer deliveries, but this was a difficult but necessary temporary step taken to protect our people, network and logistics from extreme pressure. Our delivery quality target for 2021 remains the same as for 2020 at 98%.
At Mail in the Netherlands, we delivered over 94% of consumer mail by the next delivery day in 2020, below our 95% target. Our quality levels were affected in a number of ways throughout the year. During the pandemic, we had to make adjustments to ensure safe working conditions for our people. We also faced severe operational pressure at the beginning of the pandemic, when there was a peak in greeting cards and mailbox gifts, and again at the end of the year with the December Christmas card peak. The closure of many retail locations also led to many operational delays. Despite the challenges, we are proud both of the tremendous efforts of our people to continue our mail service throughout the entire year, and that they delivered 25% more Christmas cards than during an average year.
Our focus for 2021 is to return to delivery quality levels of 95% or higher. However, as of publication date of this report, we are still dealing with the Covid-19 pandemic. This inevitably has consequences for our processes, as we continue to put the safety of our people first. We have also seen that consumer behaviour is less predictable during the lockdowns, which we have to respond to. In 2021 we will continue to make our processes as capable as possible of absorbing major shifts in supply and demand, while communicating clearly and transparently to customers and consumers about changes or developments.
PostNL

Delivery quality

as indicated




2019 - 2021
| Year ended at 31 December | 2019 | Target 2020 | 2020 | Target 2021 |
| --- | --- | --- | --- | --- |
| Delivery quality Parcels in the Netherlands | 98% | 98% | 99% | 98% |
| Delivery quality Mail in the Netherlands (preliminary) | 94% | 95% | 94% | 95% |
Strategy execution
In the remainder of this chapter we outline how we execute the strategy that is outlined in the 'Our strategy' chapter. Throughout the chapter we explain how our focus on relevant improvement areas and programmes helps us achieve our strategic objectives, which are to help customers grow their business and secure a sustainable mail business. For each focus area we provide examples that illustrate the events, initiatives and related outputs that contributed to our performance.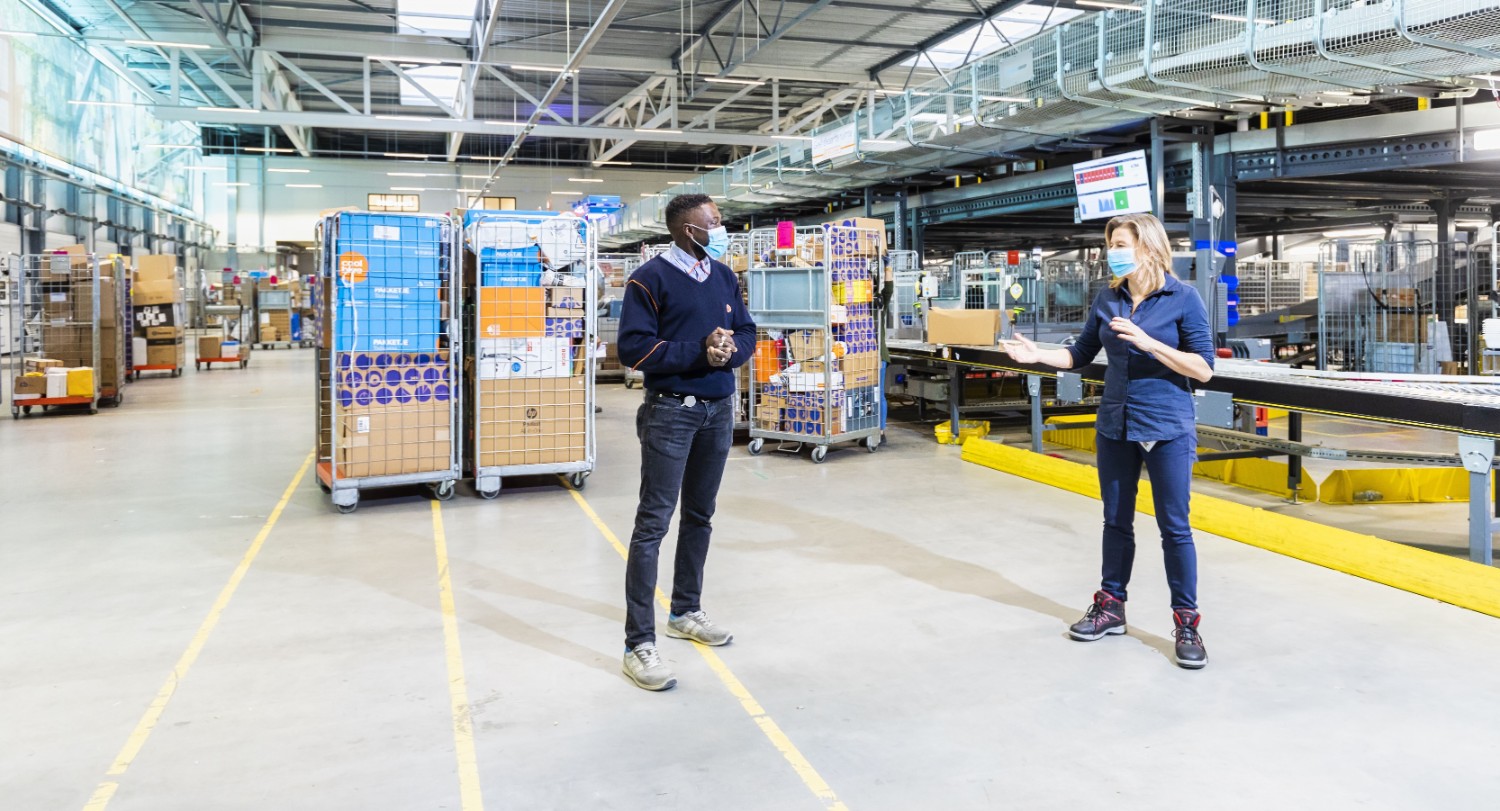 Capacity growth at Parcels
At the beginning of the Covid-19 pandemic, PostNL increased its processing capacity considerably, before again significantly raising capacity in the holiday season around Christmas. As operations director at Parcels, Iris van Wees knows what it takes to realise such enormous growth.
End-of-year peak busier than ever
Iris: "The end-of-year peak has become increasingly busier over the last few years, partly because of the popularity of Black Friday. But in 2020 we had the Covid-19 pandemic to deal with on top of this. As in prior years, we trained many new people to help us during this period. We also bought more trolleys, chartered extra trucks and opened extra locations. In addition, all of our parcel sorting centres operated on Sundays in 2020. Normally 12 of them are open throughout the year, but in 2020 all 25 were open. From Monday to Saturday, we had 6 full delivery days. In the months leading up to November we had about 800 trucks on the roads, but during the peak that increased to 1,100."
We also worked closely with customers and consumers to help keep the stream of parcels manageable. Iris: "We asked large e-tailers to spread their promotions over a number of months, as it's easier for us to process promotions for Sinterklaas (5 December) in November than at the beginning of December. And we asked consumers to delay returning their parcels until 7 January. And to order on time!"
Team spirit is stronger
"On peak days we process around 1.7 million parcels, which is about the maximum we can process while safeguarding the health and safety of our people. That is our priority. The Covid-19 measures change the way we work, but thankfully the atmosphere is still the same. If I visit one of our locations, I feel that team spirit strongly. I really think we do this together: from the deliverers, sorters and truck drivers to the logistic engineers and colleagues at the head office. Incidentally, there were more people from the head office helping out both in our Parcels and our Mail in the Netherlands business. Together we really do make it happen!"