Green products and services
Poor sustainability performance can translate into reduced growth and unhappy stakeholders, and we know that transitioning to a decarbonised business is vital if we are to have a license to operate in the future. While part of this transition can be driven by PostNL, we are also dependent on external developments. For example, the speed with which electric trucks and vans are widely available; the implementation of a stable, Benelux-wide electric charging network; and the impact that air freight has on our Scope 3 CO2 emissions. To solve these issues, we need to work with our customers and partners along the supply chain, looking for ways to reduce social and environmental costs while improving efficiencies. At the same time, we need to invest in developing technologies to help accelerate the rate of change.
Collecting e-waste
E-waste is a fast-growing waste stream, with people increasingly replacing everything from smartphones to smart TVs as they become outdated. But in a bid to move closer to a circular economy, we're working with a number of e-tailers to collect and recycle e-waste. Consumers ordering through these e-tailers have the option to return their old electronic products by boxing and labelling them, before taking them to a PostNL point or handing them over to the deliverer. We then pass the goods to a recycling firm, which takes care of the rest. The service was used over 8,000 times in 2020, and we expect it to grow rapidly in the coming years.
Green Post
Our Green Post offering, which lets customers offset their carbon footprint through sustainable investment, continued to grow in popularity in 2020. One new customer we were happy to welcome is the Dutch state. Green Post customers can use a calculator to work out the CO2 emissions of their mail and parcel shipments, and can then choose if they want to offset those emissions. Benefits include investing in sustainable projects and, for business customers, being able to include the CO2 compensation in their sustainability report or annual report.
We double the first €50,000 that customers offset and donate our contribution to Natuurmonumenten or other sustainable projects with the Gold Standard quality mark.
In 2020, our customers compensated 25,580 tons of CO2 emissions, while we donated a total of €25,000 to sustainable projects. Our aim is to create 20 hectares, or 30 football fields, of new forest within 4 years.
Developing the fashion pack
In 2020 we continued to develop the fashion pack, a reusable packaging solution tailor-made for the fashion sector. We developed an alternative to the aluminium layer that was used to provide strength, meaning the fashion pack is now 100% recyclable and can bear the logo from the Netherlands Institute for Sustainable Packaging.
And the fashion pack has sustainability credentials in a number of other areas. Because it can be vacuum-sealed, air is removed and it fits into a letterbox format. This means it takes up less space during transport, can be delivered emission-free over the last mile, for example on foot or by bike, and the packaging can be recycled rather than incinerated.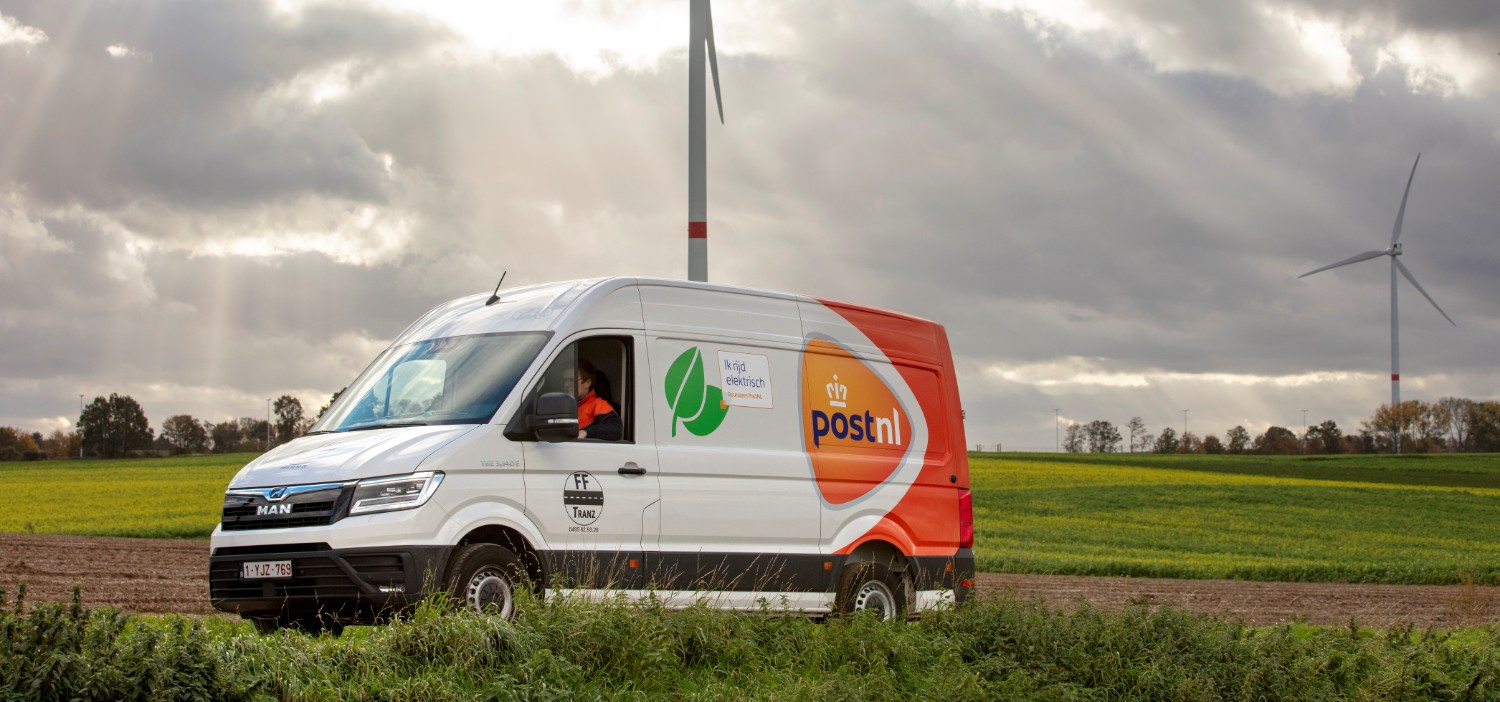 Sustainable financing
In 2019, PostNL issued its first Green Bond, which in terms of financial returns was considered equal to a traditional Eurobond. Arjen Bos, Group Treasurer, explains why PostNL chose for a green option. "In 2019, PostNL identified a potential need for cash in the foreseeable future. The company's outstanding cash balance, in combination with the expected free cash flow, was deemed to be insufficient for the close out of the transitional pension obligation, the acquisition of Sandd and the expected capex requirements. The combination of the targeted amount of €300 million and a thorough credit rating by S&P lead to a Eurobond being the best financing option.
The process evolved from a Social/Sustainable Eurobond to a Green Eurobond to fund the expected capex towards 2026, and the Green Bond was issued under the PostNL Green Bond Framework dated July 2019. The framework aligns with the four core components of the International Capital Market Association (ICMA) Green Bond Principles 2018. Sustainalytics provided a second-party opinion on our framework, which confirms that the set-up meets the generally accepted criteria for green bonds and also attracts new ESG-linked investors. The framework sets out details about the rationale, monitoring and reporting of the proceeds of bonds issued under this framework and is available on our website.
Being a logistics company, a substantial part of our future capex relates to sustainable buildings and the electrification of our fleet, which we expect to allocate as Green Bond proceeds. Sustainable buildings relates to (newly-built) sorting centres and our head office. For 17 existing parcel sorting centres, we have invested in additional energy efficiency and CO2-reduction measures to bring the sustainability levels to the required BREEAM-NL standards. By the end of 2020, 8 sorting centres had already received a BREEAM-NL certificate.
The electrification of our fleet mainly relates to (cargo) bikes, scooters, cars and vans. In our transition plan, our expectation is that we will need the first two years to develop and test fleet electrification on a small scale. Depending on the technical availability and market developments, we then expect to scale up the electrification of our fleet in different networks in the three- to five-year time period. Next to that, together with our clients, we invest making our services more efficient. The expected proceeds to be allocated to the Green Bond were already included in our long-term environmental strategy. While using the Green Bond to finance our sustainable future capex is considered equal to a traditional Eurobond in a financial returns perspective, it additionally serves as a motivator to make the sustainability-linked capex plans work. It also fits perfectly within the strategic objectives and science-based targets of PostNL. The Green Bond is another step towards a more sustainable logistical network."