Deliver smart logistic solutions
From improving inner city distribution to creating new delivery options, smart logistics is the key to ensuring customers' goods are moved quickly, efficiently and sustainably from collection to delivery. By producing a convenient shopping experience, while developing and bringing new delivery options to the market, we help customers across every industry and sector connect. At the same time, further automation in our logistic operations are aimed at increasing delivery quality and efficiency.
Developing health logistics
With an ageing population and constant improvements in medicine, health care is changing rapidly. This is leading to a greater focus on health provision at home, which requires new delivery and logistics solutions. By focusing on developing services for this changing health market, we enable healthcare providers to concentrate on looking after patients and the elderly.
In 2020, we took a minority stake in the healthcare arm of Dutch company CB. The new partnership, CB Healthcare, will enable us to collaborate even more closely to support healthcare sector clients with an array of logistics solutions, such as deliveries of wound care and incontinence products to people's homes and care institutions. The partnership aims to support a growing societal need for direct deliveries of (preventive) care to the elderly and patients in the home, as well as the growing demand for logistics support from hospitals and care institutions.
During the year we continued to focus on offering services through Roamler Care, which we operate as a joint venture with Roamler. Roamler Care is a home care platform that connects self-employed home care providers with sick or elderly people linked to care institutions. Our focus in 2020 was on making it easier for care workers to more easily organise and manage their hours on line, thereby reducing the time they spend on administration and increasing the time they have available to provide care.
We also established a partnership with Fundis, a Dutch care provider. As with Roamler Care, we provide a platform that facilitates care provided by care institutions through self-employed healthcare workers. This makes it simpler for both parties to make connections and deal with administration.
In 2020 we launched a new service to send medicines by mail, using a special tamper-proof envelope, which we are currently testing with two major pharmacies. Sending medicines by post has a number of clear advantages. As well as easing pressure on hospitals and pharmacies through reduced patient visits, it also cuts patient journeys and helps lower transport emissions. Our aim is to process 150,000 additional letterbox packages with medicines in 2021, and grow this volume to more than 1 million packages in 2023.
Expansion of Pharma in Belgium
Our Pharma & Care operations in Belgium experienced strong growth in 2020, driven mainly by the Covid-19 crisis. As the market leader in the delivery of medical provisions to healthcare institutions, Pharma & Care Belgium has played a role throughout the pandemic. They have ensured a smooth flow of medical shipments to hospitals and pharmacies, despite having to process volumes well above daily averages. Working with our Mikropakket network, Pharma & Care Belgium went live with a new key customer, GSK. The company also began introducing a new IT network, which will enable it to continue to expand its services within both the 2B and 2C markets.
Helping to grow platforms
We continued to work with a range of platforms in 2020. One was Marktplaats, the market-leading C2C sales platform in the Netherlands, which we have helped for a number of years by making it easier for consumers to send parcels via the site. In 2020 over 2 million shipping labels were created through the integration with Marktplaats, a sharp rise year-on-year. We also worked with Catawiki, an online marketplace that holds weekly auctions, and other sales platforms and e-tailers to make sending and delivery to the end consumer as simple as possible.
Expanding food sector
Home food delivery from food retailers and specialist meal providers accelerated in 2020, driven by restaurant closures and people's desire to avoid shops during the Covid-19 pandemic.
We continued to expand the number of customers for whom we carry out last-mile delivery of food boxes. For example, we now provide grocery deliveries for the Hoogvliet supermarket chain, and Pieter Pot, a start-up that offers groceries delivered in reusable glass pots instead of disposable packaging. One of our unique selling points is that we can offer nationwide delivery.
We also provide delivery options and specialised packaging solutions for small or specialist e-tailers and retailers, ensuring that they can have their goods – from fish to oriental groceries – delivered swiftly and on time to consumers across the country.
We continue to use an array of networks to process customers' food deliveries, including our Parcels and Cargo networks and our specialised food delivery network. This enables us to provide morning deliveries of bread and cakes through our time-critical network, and same-day and evening delivery across our Parcels network. We offered food deliveries one day per week across the Flanders region of Belgium throughout 2020, and at the beginning of 2021 expanded this to two days per week. We expect to be able to triple food delivery volumes across the region in 2021 as a result of adding the extra delivery day.
Growth of home & garden
We continued to grow within the home & garden domain, delivering e-commerce XL goods through our Extra@Home and JP Haarlem services as consumers increasingly select expert installation services combined with reliable delivery.
'Ship from store' service
One of the consequences of the sharp growth in e-commerce is business customers embracing new products that we offer. One example is our 'ship from store' service, where customers can use their store as a mini fulfilment location. When a consumer order is placed, we pick up the goods by electric bike from the nearest store rather than from the customer's depot. This is more convenient for the customer and contributes to emission-free last-mile delivery.
Data solutions for international deliveries
As the cross-border market expands and consumers become more demanding, the importance of data in connecting international supply chains to e-tailers and consumers across the globe increases. In 2020, we introduced a new IT system at Spring, which helps us better serve customers by enabling more options in logistical solutions, based on the needs of our customers and the products that they ship. We are also working hard on solutions that adapt to a changing regulatory environment, such as the impact of Brexit or the EU VAT e-commerce package, which will come into effect on 1 July 2021. In 2020 we worked hard to adapt our systems and processes to ensure that our customers are in compliance with the new regulations from July.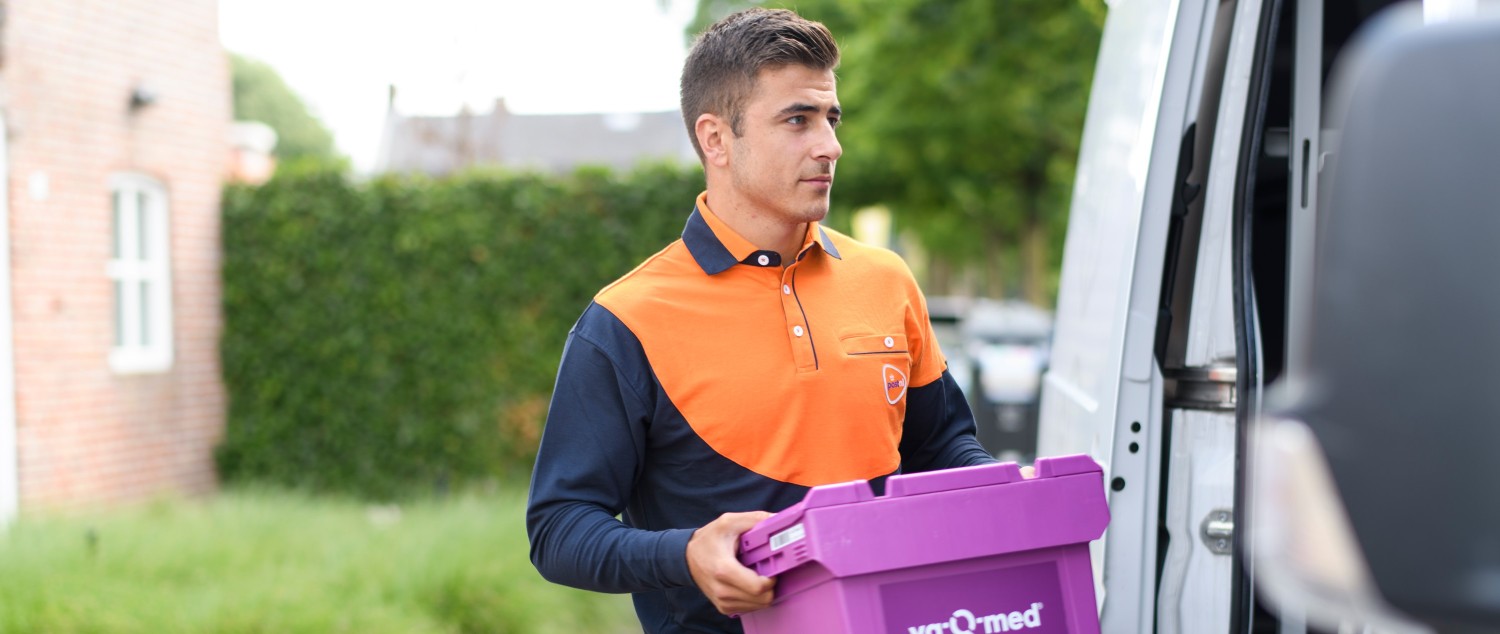 Care delivered at home
Nicolas Vannieuwenhuyze is general manager of Pharma & Care Belgium, where in the last year he saw volumes double. "PostNL delivers medical equipment and medication to pharmacies, wholesale companies and hospitals using climate-controlled transport. We are already the largest provider of such transport in Belgium. During peak moments we saw a shift from the 'normal' volumes because regular care was on hold. But the demand for face masks and other supplies exploded. For example, we organised the emergency transport of anaesthetics for corona patients on numerous occasions for the Belgian government. And for the Dutch government we are now transporting syringes and needles from Belgium to the Netherlands."
Our focus is to do much more in the health sector, which Nicolas believes is a mixture of exciting and challenging. "Because we are talking about people's health, everything needs to work perfectly. But with the attention we pay to our processes, and the commitment of our people, I am confident we will make it."