Green innovations and efficiency
Creating a more sustainable delivery company means looking for new ways to cut emissions, increase efficiency, and develop fresh solutions. In 2019 we took a number of steps to improve sustainability across the company, including introducing our first Green Bond, which we will use to finance eligible green projects. We also established Zero 2030, which will help incentivise people across the company to look for ways to increase efficiency and promote sustainability.
Science Based Targets
In 2019 the Science Based Target initiative (SBTi) verified and approved PostNL's CO2 emission reduction targets, which is a crucial step in our sustainability journey. Our SBTs are the cornerstone of our sustainability agenda, and reducing and preventing the environmental impact of both our own and outsourced operations is vital if we are to realise a sustainable business in the long term. The targets validated by the SBTi absolute CO2 reduction from our own operations (scope 1 and 2) of 60%, and relative reductions of 80% per kilometre driven. These scopes include all of our own operations, but not the operations of our delivery partners. They also include scope 1, 2, and 3 reductions of 18% by 2030 for all transport, including outsourced road and air transport. These reductions are a vital step in achieving our objectives.
Green Bond
In September we raised €300 million through the launch of our Green Bond, a transaction that underscores our commitment to becoming a truly sustainable e-commerce logistics provider. We will use the net proceeds towards supporting current and future green projects. These will include green kilometre initiatives, which are focused on clean transportation through investments into electric and hydrogen-based vehicles; creating sustainable buildings, which are energy efficient and have a minimum level of BREEAM NL Excellent certification or equivalent; and through innovation and efficiency measures, which will involve financing renewable energy projects, establishing direct purchasing contracts from renewable energy producers, and looking at investments into developing renewable energy technologies, specifically wind energy and solar panels.
Our Green Bond Framework will contribute to our sustainability vision, and the investments we make as a result of it will contribute not only to our own sustainability targets, but also to the Netherlands' national climate goals. Ultimately, these will help advance the United Nations' Sustainable Development Goals (SDGs), including SDG 7: Affordable and clean energy industry, SDG 9: Innovation and infrastructure; and SDG 11: Sustainable cities and communities.
Internal carbon pricing
In 2019 we implemented internal carbon pricing, which puts a monetary value on greenhouse gas emissions. This means that when submitting investment decisions, management will be required to take into account the financial impact of CO2 emissions arising from that investment, based on an internal price per tonne of CO2. We believe this will help us better understand and react to climate-related business risks by making sustainable initiatives more attractive than cheaper but less clean alternatives. Ultimately, this will help us achieve our CO2 reduction targets, creating a cleaner and more sustainable company.
Sustainable packaging
A 2019 IPC study concluded that consumers are becoming increasingly concerned about sustainable packaging in the e-commerce sector. Parcels sent by our customers often contain too much air, and transporting air is inefficient and unsustainable. In 2019 we began implementing ways to reduce air in parcels sent through our network, while continuing to develop other sustainable packaging solutions.
At our fulfilment centre in Houten we worked with two customers to develop smaller packages for their products. In addition to reducing air, properly sized packaging also has other benefits. One is that it leads to greater consumer satisfaction, which is also an attractive benefit for e-tailers. Another is that it is easier for us to transport smaller packages by e-bike and other sustainable options, such as e-cargo bikes.
Based on an initiative of the Children's Council (Raad van Kinderen), we worked with primary school kids to develop a reusable parcel delivery bag called Orange Back. The bag can be reused up to 1,000 times, giving it the potential to save over 130 kilogrammes of cardboard. It is also convenient for consumers, who can return it directly to the deliverer. We began testing the bag with two sports retailers in 2019, and will continue to develop the product going forward.
Another reusable packaging solution we refined during the year is the fashion pack, a specialised packaging solution tailor-made for the fashion sector. We increased the sustainability of the material the fashion pack is made from in 2019, and aim to create renewable packaging in the near future. The fashion pack can be re-used and vacuum-sealed by the consumer if they choose to return the product, reducing packaging material and air in packaging.
Our view on city logistics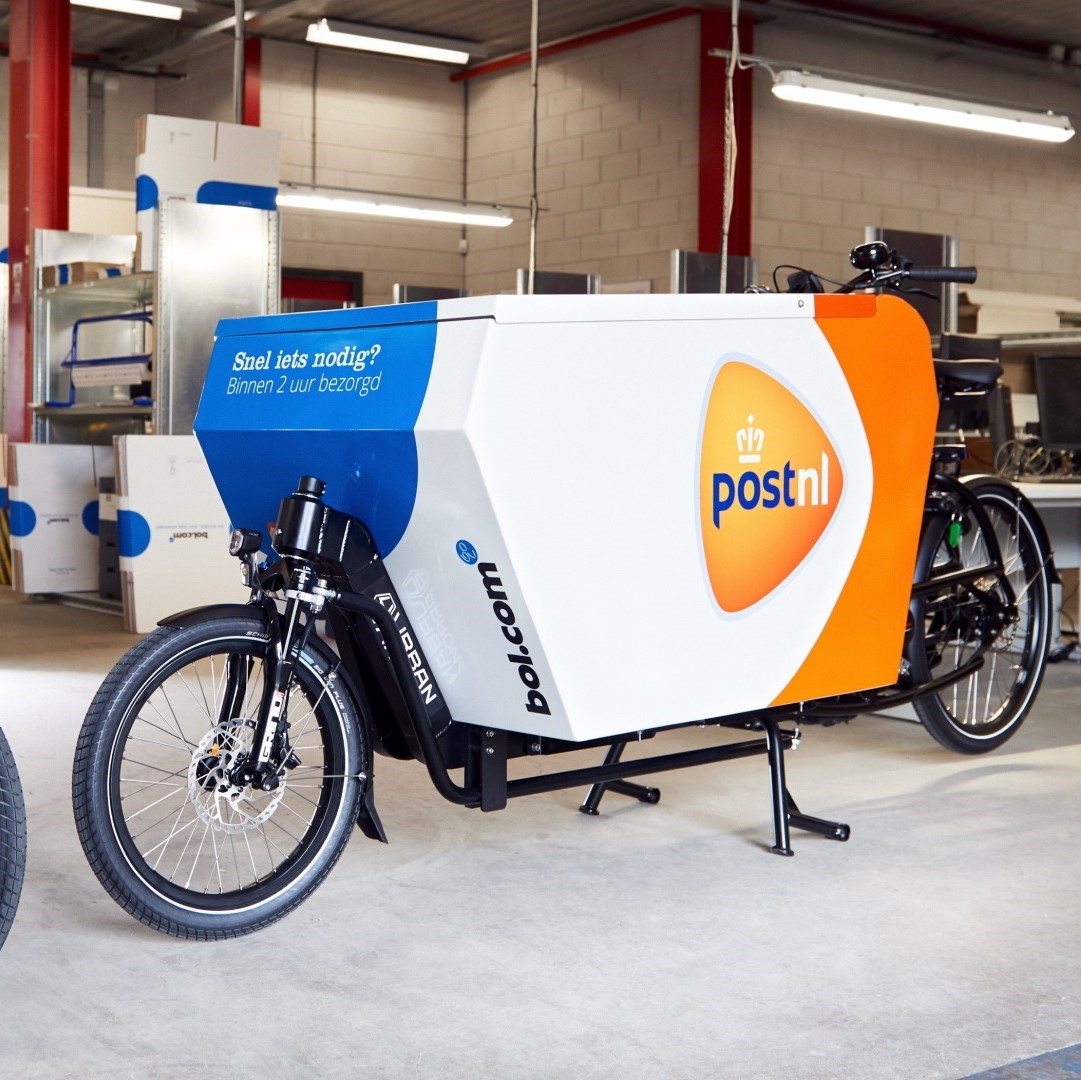 Delivering 10,000 parcels by bike
For Amsterdam consumers ordering from bol.com, same-day delivery, or even an extra-fast two-hour option, is becoming the norm. And if that wasn't enough, many of the parcels are now delivered sustainably. Since 2018, PostNL has run a delivery trial across the city using e-cargo bikes, and towards the end of 2019 the service delivered its 10,000th parcel. Project manager Boy van der Velden explains.
Fulfilment centre
"If you live inside the trial area in Amsterdam and place your order at bol.com between 10 am and 7 pm, you can choose to have your order delivered within two hours. Or any two-hour timeframe that same day. This super-fast delivery option applies to around 10,000 items we have stored at a joint fulfilment centre on the edge of the city. As soon as bol.com receives an order, they prepare the package and hand it over to us. We are responsible for planning and executing the delivery."
Sustainable
"The service is fast and sustainable," Boy continues. "We deliver everything using e-cargo bikes. And we see that other companies are enthusiastic about our approach. We started another trial with Nespresso, delivering capsules from a Nespresso shop using e-bikes, and delivering and returning reusable bags for used capsules. This helps PostNL and Nespresso work towards their green goals."
Green Post
In 2019 we continued to develop our Green Post offering, which lets customers offset their carbon footprint through sustainable investment, by optimising the CO2 credits and investments in sustainable projects we use to offset the carbon emissions.
Green Post customers can use a calculator to work out the CO2 emissions of their mail and parcel shipments, and can then choose if they if they want to offset those emissions. Benefits include investing in sustainable projects and, for business customers, being able to include the CO2 compensation in their sustainability report or annual report.
We double the first €50,000 that customers offset and donate our contribution to Natuurmonumenten, an organisation that buys, protects and manages nature reserves in the Netherlands.