Shaping the growth of e-commerce
We aim to shape the growth of e-commerce by expanding our network, while increasing the efficiency of our existing infrastructure. In 2019 we saw parcel volume growth of around 12% compared to 2018 volumes. Our focus for the last-mile is to offer innovative solutions that provide customers with a broad range of delivery options.
Expanding our parcels network
We keep pace with e-commerce growth and the changing mail market by adapting our network. In 2019 we opened three new parcel sorting centres in the Netherlands, Almere, Dordrecht and Tilburg. This enables us to better process the delivery flows resulting from the ongoing rise in parcels being sent. In addition, we managed to increase the average number of parcels sorted in sorting centre.
We also further grew our retail network in the Netherlands, making it easier for customers to collect and return parcels. By year end, we had 3,387 retail locations across the Netherlands (2018: 3,240). Including parcel and letter lockers increases the number of parcel points to over 3,500 (2018: 3,350).
In Belgium, we expanded our six distribution centres, adding over 11,000 m2 of floor space. We also began preparing for our first parcel sorting centre, which we aim to open in 2021. During 2019 we rolled out our own network of over 350 parcel points across the country, which customers can use to collect, send and return packages. The new locations are on top of the existing network of collection points we already have in Belgium, bringing our total number of parcel points across the country to 447. Developing our own network means we make it easier for customers in Belgium to always be close to a parcel point, shortening journey times and increasing the likelihood that they will take advantage of the e-commerce market.
Parcel and letter lockers
During the year PostNL rolled out its 100th self-service parcel and letter locker, which lets consumers send letters as well as pick up and send parcels 24/7 at locations across the Netherlands. The lockers are part of our strategy to provide consumers with access to our services across a broad range of channels. By year-end we had 115 lockers in operation across the country, and will continue to add more at strategic locations. We also opened our first self-service parcel locker at a supermarket.
Direct to retail project
Over 94% of parcels are delivered on the first attempt. But for those that are not, a large percentage also fails to be delivered on the second attempt. To better understand this, in 2019 we launched a project that used artificial intelligence (AI) and data to help us more accurately predict when a second delivery attempt would be successful. Based on these results, we have chosen to reroute parcels directly to retail locations when the receiver is not at home on the first delivery attempt. The change will create a number of benefits, including receivers being able to collect their parcel one day faster, lower logistics costs, and a drop in CO2 emissions.
Within our direct to retail solution, we did not provide retailers with sufficient updates on extra parcel volumes. As a result, some retail locations received volumes far above their capacity, leading to issues and the loss of some locations during the year. We resolved this through closer collaboration with retailers, and by connecting them to our decision-making process at an earlier stage.
Shorter storage period at retail locations
In 2019 we reduced the time we store parcels at our retail locations from 14 days to seven days, which will free up storage space and help our retailers keep up with rising volumes. The change was based on data showing that over 91% of all parcels are collected within seven days. Of those that remain beyond seven days, only 3.5% are ultimately collected. The new system means e-tailers, who will receive returns earlier, will be able to provide refunds and resell their products faster. Despite the impact of this shorter storage period, both consumer and business customer satisfaction rates improved in the last quarter of 2019.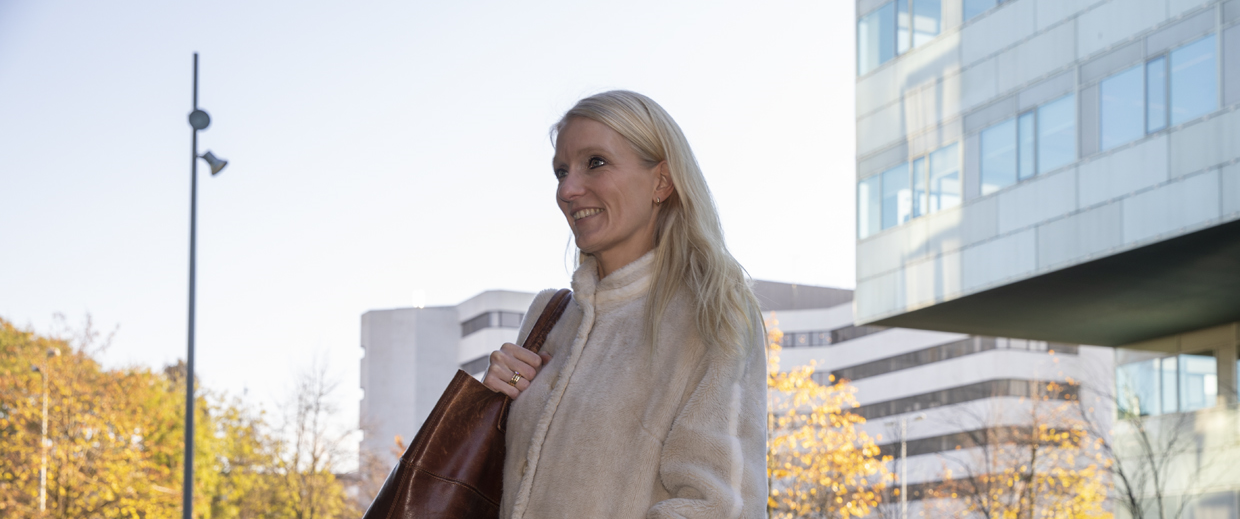 More people visit retail
As an account manager, it's Rozemarijn Wildeman's job to keep in touch with the head offices of the retail chains that house PostNL's post offices and parcel points.
The customer comes first
"It's my job to keep the customers happy. That means: the retail partner, their stores and the customer who picks up a package. Every day I have one or two appointments, for example at the AKO, Primera or Bruna head office. Because every customer wants something unique, the meetings can be quite demanding. But there are around 3,400 locations with a PostNL franchise, and they are all equally important to us. Sometimes we take measures that the parcel deliverer might not be happy with, such as having to visit a store where there are only a few parcels. In such cases, the commercial interest of the retail partner outweighs practical considerations."
Changes are sometimes difficult
"The work is changing fast, but it is never boring. And sometimes things don't go the way I'd like them to for the retailers. One example is that we have started taking parcels to the retailer after one delivery attempt instead of two. This results in less work for sorting, preparation and delivery. I understand that it is nice for parcel deliverers, but for retailers it means a mountain of extra packages. I know it means more people are visiting the store who may buy something, but if the store is packed that's not attractive either."
International e-commerce opportunities
The e-commerce market is growing strongly and consumers are increasingly purchasing goods from e-tailers abroad. We are ideally positioned to take advantage of this growth, providing customers in the Benelux and internationally with a 'gateway to Europe' solution through our Spring operations. This provides one hub in Europe for all cross-border parcel distribution. In 2019 we transferred our hub from Belgium to Germany, in line with developing our cross-border services beyond the Benelux. In addition, we extended our shipping options by increasing the number of collaborations with partners in our first and last-mile solutions.
As the market expands, we are increasingly using data and scale in a smart and efficient way to create operational efficiencies across our businesses and to connect with customers. In 2019, we increased data sharing with customers to make following parcels in the Track & Trace environment more accurate.
Preparing for continued growth through new sorting process
Growth in the e-commerce sector means we need to make continuous changes to our business model, ensuring that we can maintain investments in capacity and further strengthen our network. In 2019 we began preparing a new small parcel sorting centre (SPSC), which will rely heavily on robotisation, to increase the operational efficiency of our sorting processes.
Around 40% of the parcels we process have the potential to be processed within our SPSC. This number is growing as e-tailers switch to packaging solutions that contain less air. The SPSC, which will open in 2021, will take pressure off the logistic infrastructure in a number of ways.
First, with a capacity equivalent to four current parcel sorting and delivery centres, it will increase the distribution potential in our current sorting and delivery centres and lower the need for future investments. Second, it will cut sorting and overhead costs for small parcels. And finally, it will help us achieve peak absorption and provide us with additional last-mile routing options.