Enhance customer interaction
Customers want simplicity, reliability and control when they send and receive parcels and mail. We are helping to create seamless customer interaction in a variety of ways, such as by using data and digital solutions to create a smooth delivery process. We also utilise our broad range of capabilities to ensure that we can offer them the right solution wherever and whenever they need it. Below we outline some key developments from 2019 on the way we interact with customers.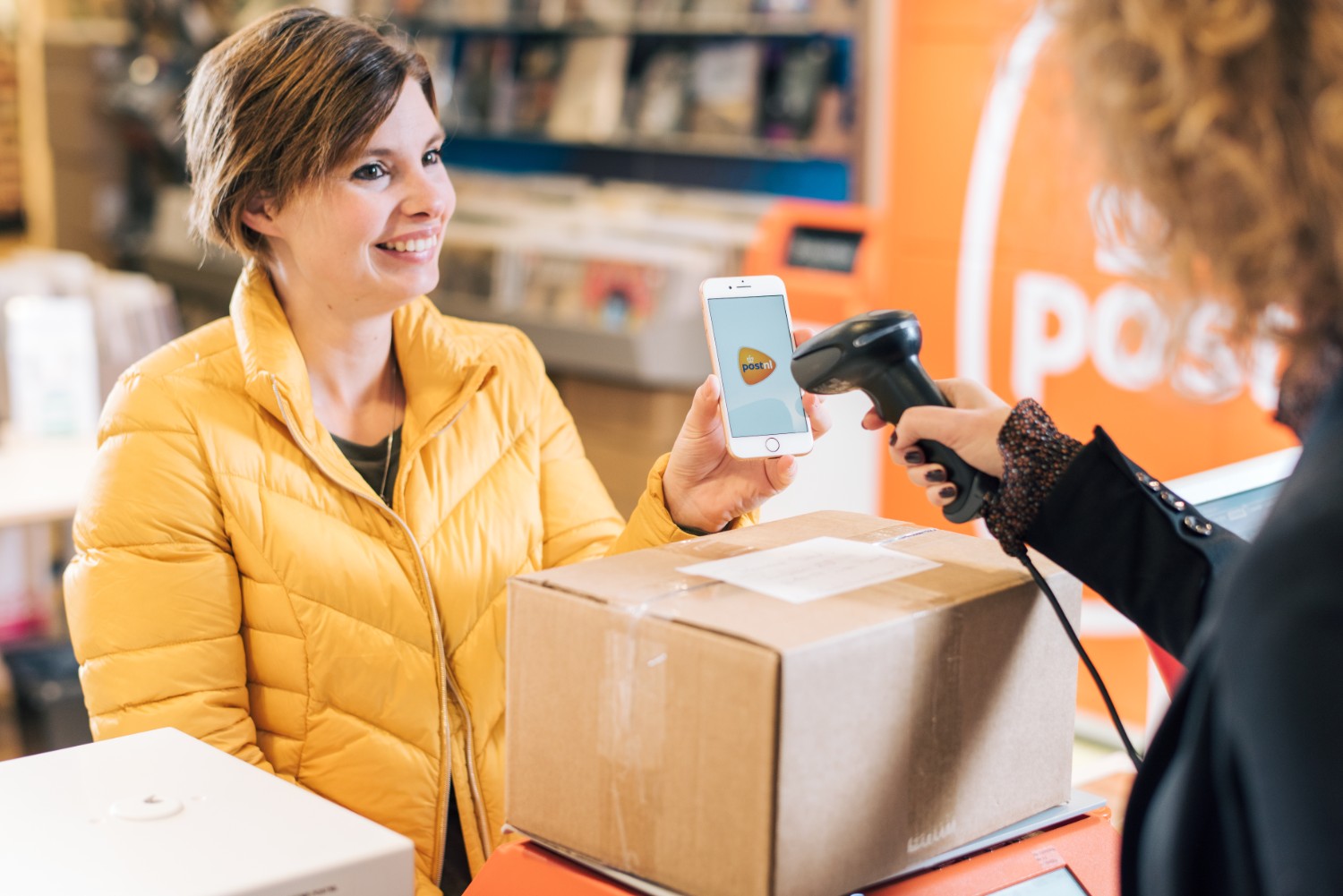 Putting customers first
In 2019, Cordia Covens, a product owner within our e-commerce environment, helped develop a digital shipment receipt, making it faster and simpler for consumers to return parcels. "If you send a parcel from a PostNL retail location, you can now choose to receive proof of shipment digitally rather than on paper. This makes the whole process easier and smarter for the customer. Not only is the time the retailer spends on each customer cut, but we save costs. And it also provides us with data which helps us share relevant information with the customer about their shipments, and helps us offer additional services. This is a win-win-win situation."
Customer label
The receipt received the highest classification from our internal Customer Label, which rates the products we develop in terms of the impact they will have on customer satisfaction.
Cordia: "We sometimes hear that we concentrate too much on processes instead of people," says Cordia. "But our focus is also very much on thinking from the customer's perspective. Our Customer Label, which can be compared to the EU Energy Label, gives us greater insights into our product development process, and what sort of effect the product will have in the market."
Connecting through the PostNL app
During the year the number of customers connected digitally to PostNL through a PostNL account continued to grow, with 5.3 million unique users by year end. Of this, over 1.2 million had activated Mijn Post in the PostNL app, which means that we are on track to have two millions users by 2020.
The PostNL app has become a vital tool since its launch, enabling us to connect with customers and roll out services that provide them with greater independence and freedom. It also remains extremely popular with users, who gave it a 4.5/5 star rating in 2019.
Our goal in 2019 was to continue to develop digital solutions that make sending and receiving easier for customers and consumers. One of the solutions we launched is the pick-up receipt, which lets receiving consumers generate a barcode in the app that can be scanned by the retailer when collecting a parcel. The retailer immediately has access to information such as the parcel's weight, dimensions, and the consumer's name and address, helping them locate the package faster and reducing the consumer's waiting time. By year end the option had been used over 180,000 times.
Another popular new solution was the digital shipment receipt, which had been used by over 5 million consumers by the end of the year. When sending a package with PostNL, consumers can now have a QR-code scanned in the app and receive proof of shipment by e-mail. As well as reducing paper usage, this makes storing and retrieving receipts simple and efficient.
As international e-commerce continues to grow strongly, we launched a stamp code for countries outside the European Union. The stamp code is convenient and simple to use; after purchasing the stamp in the app, customers receive a nine-digit code which they write on the envelope. All they then have to do is post the letter and we take care of the rest.
The stamp code, which is a great example of how we react to our customers' needs, was purchased around 1.6 million times in 2019, almost double the number sold in 2018. We also launched the option to create and pay for your shipping label directly in the app. When you are ready to send your parcel, you simply print the label at a local PostNL retail point. In 2019, over 1 million consumers used this option to send their parcels.
Business customers can also now use the PostNL app to simplify their sending and receiving. By the end of 2019, customers could print labels, register bulk mail and view invoices directly in the app.
Enhancing Daan, the digital assistant
During the year we further rolled out Daan, our Dutch-language digital assistant that provides answers to customers' questions online. As well as being rolled out through social media and via his own video clip, we have also given Daan his own face. By year end he had spoken to more than 2 million customers, and can handle up to 20% of questions without the need for a call centre worker getting involved. For example, where is the nearest PostNL location or when will we deliver their package. Customers can now log into their PostNL account and Daan will let them know if they can change the delivery time or location of their package, and they can ask Daan questions through Google Home, the smart assistant. Customer feedback has been extremely positive, with around 80% saying they are satisfied with their conversation.
Improved Track & Trace service
Our Track & Trace service lets senders and receivers track the status of any registered letter or parcel sent with us, so that they know when it will be delivered. In 2019 we improved the service, with the new environment providing customers with a clear overview of their most recent package and delivery information, including international shipments. Our aim is to put customers in control as much as possible, making their interaction with us as seamless as possible.
We are also working hard to make first-time deliveries successful. As well as benefitting the customer, it is also better for PostNL and the environment, cutting journey numbers and times. In 2019 we launched a live delivery tracking pilot for our food and evening delivery networks. Customers can follow the parcel on a map based on the latest delivery scan, and see how many stops remain before their package arrives. During the year we have developed this function, and managed to create a stable service by year end.
We will roll this functionality out for Sunday deliveries in 2020, and enrich the customer experience in the future by including the expected delivery time and a 15 minute 'delivery alert'. We also plan to make this service available on other days in the future.
Be prepared - Order in time
On an average day, PostNL delivers around 0.9 million packages across the Netherlands. Yet on peak days, such as Black Friday in November or in the days leading up to Sinterklaas at the beginning of December, this can rise to well over a million per day. One of our goals in 2019 was to reduce these delivery peaks, cutting the pressure on our delivery network and lowering the risk that customers' parcels were delayed.
Which is why we worked alongside other companies in the logistic sector and Thuiswinkel.org, a Dutch digital commerce network, to launch an online and radio campaign called 'Be prepared - Order on time'. The campaign was a success, and helped us achieve high delivery quality during the December period.
Customer to cash
As part of our focus on being the favourite deliverer we are creating a logistic supply chain that supports digital transformation in our business, enabling us to better serve our customers. In 2019, the largest and most challenging IT project we launched was aimed at helping us achieve precisely that.
We create customer value along our entire logistic supply chain, culminating in the millions of parcels and letters we process. Achieving this requires a balanced Customer to Cash process, enabled by a modern IT backbone that provides efficient processing on the one hand, and flexible product configuration and insight for our customers on the other. The new PostNL Customer to Cash process introduced in 2019 enables:
More digitised marketing, sales and service processes

Efficient on-boarding of business customers in our customer base

A configurable product model

The ability to process millions of events per day in the rating and billing process

Traceability from invoices through to unique parcel items

Efficient and standardised accounting processes for PostNL entities
During 2019 we faced a number of challenges in this transformation, for example in relation to automatic invoicing. With the efforts of many dedicated colleagues, we managed to solve most issues by year-end. Once the process is fully integrated and running smoothly, we expect it to help increase business customer satisfaction rates and lead to substantial cost savings.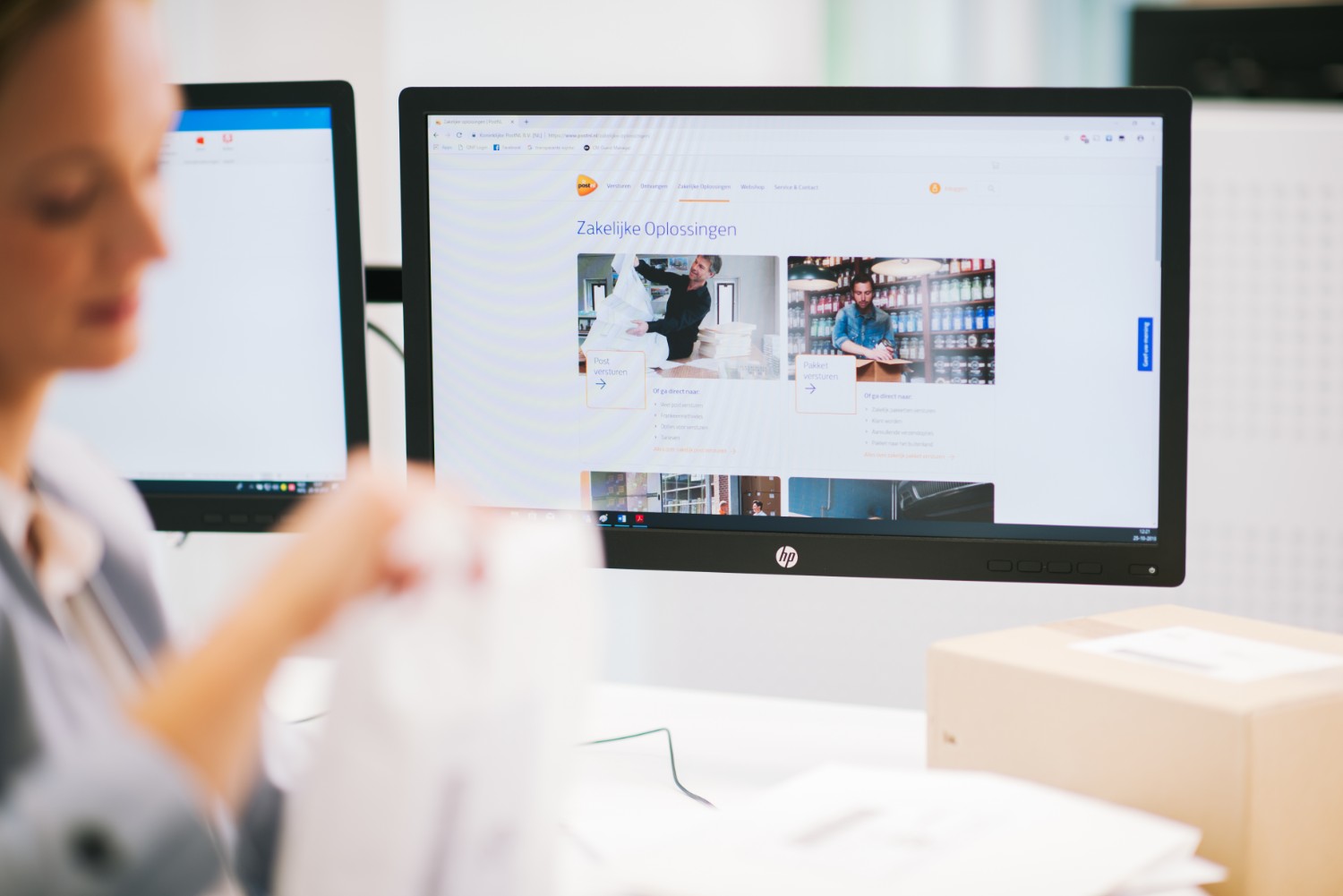 IT innovation to benefit customers
In 2019 we upgraded our IT systems to provide a richer experience for our business customers. The project, called Customer to Cash, will lead to greater customer satisfaction and cost savings for PostNL.
Making things simpler
'The Customer to Cash chain consists roughly of four parts,' explains Jeanette van Egmond, a Digital Sales consultant at PostNL, who worked on the project with over 100 colleagues. 'Step one involves registering agreements in a new system for contracts. Step two, the customer portal, is a platform for business customers who want to send mail and parcels. Customers can now find their contracts more easily, and they can also 'pre-order' parcels and mail.
The third step, the business counter, has a more user-friendly system. We can now send a confirmation to the customer automatically, and forward all relevant information to the invoicing system. The final part involves the invoices and proved to be the most challenging. We changed both the content and the lay-out of our invoices. They are now more transparent, but the integration of systems led occasionally to inaccuracies, and the resolve of our customers was sometimes put to the test. Ultimately, the Customer to Cash project provides customers with a better overview of their products, meaning they can arrange their postal affairs quicker and more simply than before.'
Customer care
Improving customer interaction involves providing accurate and reliable information, high-quality service, and a relevant, personalised and unique experience. In 2019, customer care ratios in our Parcels and cross-border segments improved, as we implemented data-driven changes. One example is the introduction of additional data points on our international shipments, which provides customers with more information on the progress of their package. In Mail in the Netherlands, we saw a small increase in customer contact ratios, possibly due to the implementation of several large change projects.
Another example is the introduction of a feedback button in the app, which customers can use to react on the quality of their parcel delivery. During our pilot project we gave consumers the option of sending a compliment if the delivery went smoothly and they were satisfied, or asking to be called by a customer care agent if they were unsatisfied. If they were unhappy, the customer care agent first called the deliverer and then the consumer within two hours. Normally, this would have taken up to two days.
We also established an 'orange heart' customer lab at our head office in The Hague. We are using this space to meet and talk with customers, carry out research to obtain insights into what they want and how they experience our service, and for quantitative research and 1 on 1 customer conversations.
Although we have seen improvements during the course of 2019, providing customers with clear and accurate communication remains an area that we are working on. Our customers have told us that we can still do better. While our digital and data driven solutions facilitate our customer interaction, we need to continue to work hard to provide our people with the right information and tools, enabling them to prevent issues from happening, and communicate timely and adequately if they do.
Growth of commercial customer care services at Cendris
Cendris, which is part of Mail in the Netherlands, provides customer care services for companies across the Netherlands as well as for PostNL. Cendris's goal is to increase customer satisfaction by listening carefully and being genuinely interested in its clients' problems, while proactively offering innovative solutions. In 2019 the company continued to expand its operations, adding new clients and offering additional services to current customers. To help manage future growth and due to challenges in finding new employees, the company opened an office in Valencia, Spain.
The power of direct mail
We continued to develop our direct mail offering in 2019, working to help customers make a stronger connection with their targeted consumer group. Direct mail lets customers send a letter or brochure addressed to their target consumer by name, creating more personalised communication. It remains a powerful tool, helping companies reach the maximum number of relevant consumers. The response rate can be as high as 23%, and most customers view direct mail as an indispensable link in their marketing mix.
We also saw that the Mijn Post service in the PostNL app, which provides users with a notification and digital preview of the mail that will be delivered to them that day, continued to add value for users. It creates a link between the physical and digital worlds and increases the reponse rate to physical mail.