Lead through business model innovations
We focus on accelerating the time to market of our innovative solutions. At the same time, we regularly develop solutions directly with customers. Our aim is to bring innovative value propositions to the market.
InnovationStudio
We operate an InnovationStudio in Amsterdam, which focuses on developing new business models and solutions to improve our core business processes, creating more certainty for our investments and helping to pass on new ideas to colleagues across the company. Currently, we concentrate on three innovation categories: increasing profitability within our current business; generating new business initiatives; and discovering future business opportunities.
New ideas are tried out during 3-month periods, with testing criteria being strategic fit, desirability for customers, feasibility of implementation, financial viability, sustainability and the 'awe factor'. After three months, we decide if we move on or stop with the idea. One example of an initiative currently being piloted is 'low-air packaging'. In this pilot, we identify the impact of low-air packages on customer satisfaction and loyalty.
Developing API connections
We continued to develop our online platforms in 2019, providing business customers and consumers with a greater range of products and delivery solutions when they want to ship their goods. One example is our automatic programme interface (API) platform, which provides customers with a set of application programming interfaces, or APIs. Online customers, such as e-tailers, can embed an application in their website and offer customers our broad selection of delivery options, such as next-day or evening delivery. One example of an API service we offer our customers is detailed below. Another is our Flora@Home initiative, which provides e-tailers with an API to connect to an international drop-shipping platform within the large, but still undeveloped, online floriculture market.
For Dutch e-tailers, we provide a number of APIs that enhances their order and delivery processing, improving service quality and customer satisfaction. One example is an API called Bulktimeframes, which helps the e-tailer better manage their subscription-only delivery options, resulting in a more reliable delivery service. Other APIs provide real-time data sharing based on consumer input and validated and correct labels and confirmations. This leads to more accurate deliveries, increases customer satisfaction, and reduces customer support calls.
"Using artificial intelligence (AI) in data and algorithms helps us improve customer services and drives efficiency."
Seamless network connections
We provide many thousands of customers with a broad range of services and solutions, using logistical networks that range from the very large to the small. Our Logistic Service Provider (LSP) teams focus on digitalising and improving the IT operations of order management, planning and field services, while helping to ensure customer orders are connected seamlessly with the most suitable network. As well as improving our service level, this creates efficiencies and leads to cost savings. In 2019, our LSP teams helped introducing new handheld devices within our time-critical networks, aligning the networks' IT and software with that of other parcel networks. This will help us to connect customers with the most suitable delivery network.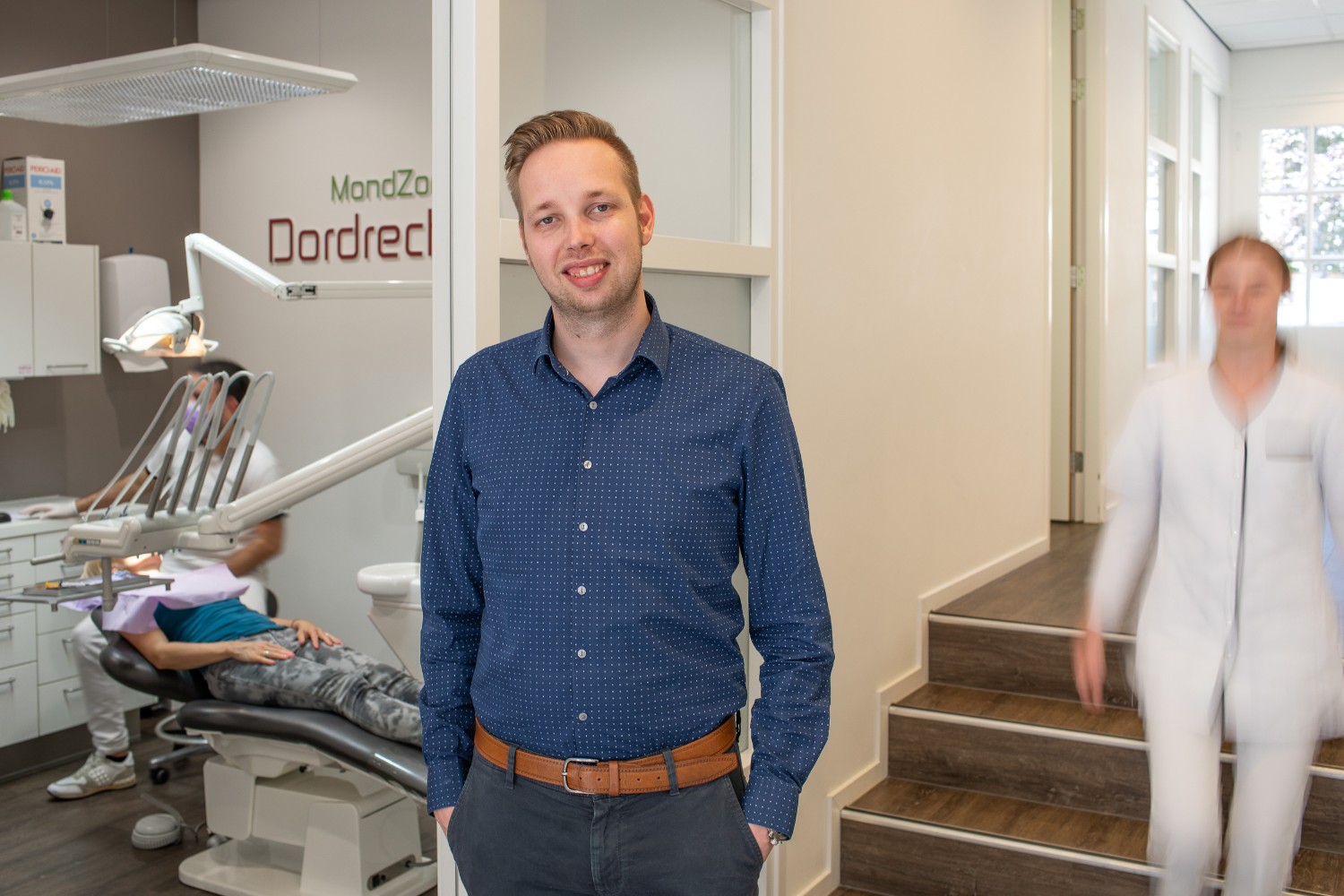 Customised delivery solution for Dentalair
'Ordered today, delivered tomorrow' is a promise PostNL keeps millions of times every day. But it was a promise we didn't always manage to keep for Dentalair, a wholesale customer that sells to dentists and dental hygienists.
Parcel returned
''Like many dental practices, many of our customers are located in residential areas," explains David Jansen of Dentalair. "They close at 5 pm, while PostNL frequently delivers late into the evening. Parcels for customers situated in those areas would often be returned because they were delivered after closing time. Initially, PostNL provided a temporary solution, where we let them know which orders had to be delivered before 5 pm, and they would send them through their courier network. A good, but expensive and complicated solution. PostNL then adjusted their IT-systems, so that parcels going to specific areas are sent with a driver who delivers within opening hours."
No extra work
''PostNL did a great job. We're now able to send all of our parcels together, and PostNL's system automatically sorts them so that the parcels to be delivered before 5 pm are matched with the correct driver. A solution without extra work for us. Clever how PostNL managed that."
The strength of AI
We use artificial intelligence (AI) across the company in a number of areas, from process automation to robotics. But one of the most important applications is in data and algorithms, where AI helps us improve customer services and drive efficiency. One example is at our retail locations, which in recent years have seen a huge rise in the number of parcel deliveries and returns due to e-commerce growth. In 2019 we introduced an algorithm that forecasts when there will be a mismatch between expected parcel volume and capacity within the retail network. This helps us spread parcel distribution across retail locations meaning locations never get too busy, and consumers are served faster.
The rise in robotisation
We are increasingly using robotised operations across our fulfilment operations, helping us to store and access our products faster and more reliably than when done by hand, and providing us with greater control over deliveries. At our Houten fulfilment centre, for example, the robotised warehouse we installed in 2018 is now fully operational. In 2019 we almost doubled the number of customers who are handled using the robotic process.
We also continued our robotic automation research in 2019, aimed at using a robotic arm to move parcels from roll containers onto the sorting machine, thereby increasing efficiency and reducing the physical impact on workers who have to move the parcels manually. While the technology is currently not good enough to process the wide array of parcel shapes and sizes we deliver, we are continuing to work with partners on developing solutions that we can introduce across our operations.
In-house sorting centre
As wholesalers and retailers optimise their sales channels, they increasingly need state-of-the-art warehousing and fulfilment. In 2019 we began developing a second in-house fulfilment centre for bol.com, one of the Netherlands leading e-tailers. This will help us further improve delivery and cost efficiency for bol.com when the centre goes live in 2020.