Promoting health and well-being
While healthy employees are critical to a well-functioning company, we also want our workforce to be a reflection of society where everyone feels safe and accepted.
Safeguarding occupational safety
Download spreadsheet
PostNL

Safety

As indicated




2021 - 2022
| Year ended at 31 December | 2021 | 2022 |
| --- | --- | --- |
| Fatal accidents | 2 | 3 |
| Recordable accidents (per 100 FTE) | 4.7 | 3.8 |
The occupational safety of our people also remains one of our priorities. Our certified ISO:45001 management system helps us with the structured management of the health and safety of people working with or for us. This includes identifying and following up on areas for improvement.
In 2022 our focus on this area helped reduce the number of recordable accidents to 3.8 (per 100 FTE) from 4.7 (per 100 FTE). In 2021 we faced a relatively high recordable accident rate, mainly due to weather conditions at the beginning of the year. Weather conditions were better in 2022, which resulted in a drop in the accident rate.
Additionally, volume developments led to fewer transport movements and less working pressure for deliverers resulting in a fall in the number of accidents. We deem the number of recordable accidents as being relatively low, compared to the exposure our large workforce has on a daily basis.
However, despite our many efforts and initiatives on health and safety it is with deep regret we have to report three fatal accidents across our operations in 2022 (2021: 2).
Tragically, a parcel deliverer was assaulted and died as a consequence of his injuries. One of the deliverers from a delivery partner was involved in an accident, resulting in two casualties. And a driver was involved in an accident with a small truck, which was fatal for a third party.
Improving road safety
During the year we made further progress switching to three-wheel e-scooters, replacing almost all of our two-wheel petrol scooters. As well as being more more sustainable, the three-wheel e-scooters are also safer.
Importance of a diverse and inclusive workforce
Diversity and inclusion are integral elements of PostNL and we focus on creating a work environment where everyone feels safe and is provided with development opportunities to maximise their potential. We concentrate on four main areas, outlined below, to make this happen.
Our PRIDE network operates across the company and actively campaigns for greater acceptance of the LGBTIQ+ community.
WIN operates a proven mentoring programme, which includes senior management acting as mentors for talented and ambitious women to help them grow and prepare for senior positions within the company.
The Young PostNL network focuses on young talent within the company, and develops its own events aimed at developing young talent.
Multicultural diversity is one of our four main diversity and inclusion focus areas, and aims to attract, retain and develop multicultural talent within the company.
Each of the four networks are sponsored by Executive Committee (EC) members and the EC periodically updates our Supervisory Board on diversity and inclusion developments within the company.
Diversity Index
Every four years we carry out research into diversity and inclusion through our company-wide Diversity Index, which provides valuable insights into whether our people feel accepted at work and are given equal opportunities. The Diversity and Inclusion survey we carried out in 2022 highlighted the progress we have made in this area in recent years. This progress is down to our diversity policy, which is structured around six key themes: gender equality, multicultural diversity, acceptance of the LGBTIQ+ group, age differentiation, diversity in thinking power and helping people regain and maintain access to the labour market.
We respect and value differences as it makes our organisation stronger, innovative and attractive, which is why we concentrate on diversity in different areas of our human resources processes. This includes creating opportunities for people with a distance to the labour market, and we take a proactive approach towards this important topic through engagement with partners in our value chain.
Making progress in gender diversity
We continued to promote diversity and inclusion across the company and beyond, for example by promoting our company-wide Diversity Index to other organisations.
Download spreadsheet
PostNL

Gender diversity

Percentages




2021-2022



| Year ended at 31 December | 2021 | 2022 |
| --- | --- | --- |
| Share of female PostNL employees | 48% | 47% |
|   |   |   |
| Share of females in operational management positions | 23% | 25% |
| Share of females in middle management positions | 33% | 35% |
| Share of females in senior management positions | 29% | 31% |
| Share of females in management positions | 30% | 32% |
Although the total share of female employees decreased slightly by 1 percentage point to 47% in 2022, during the year we made progress on the balance between men and women in management positions at operational, middle and senior management levels. In 2022, the share of females in management positions increased by 2 percentage points to 32%.
Gender diversity at the top
In the Netherlands, a law requiring a mandatory gender diversity quota on the supervisory boards of Dutch listed companies, with new appointments contributing to a composition of at least one-third women and one-third men, came into effect on 1 January 2022. Simultaneously, companies such as PostNL were required to set gender diversity targets for the composition of their management board, supervisory board and senior management. In line with this, we updated our policy on diversity at the top of the organisation.
For the Board of Management, we have set a target of at least one-third women and one-third men. At the end of 2022, our Board of Management had a 50/50 split, exceeding compliance with our target. Our Supervisory Board was composed of 42.9% women.
For senior management with an individual labour contract, we strive for at least one-third women and one-third men by 2025. To achieve this, we are focusing on coaching and succession planning aimed at talented women within PostNL.
In the coming years, this will also involve filling a larger proportion of vacancies with women. For the purpose of this law, we have defined senior management as employees who have individual labour contracts. This population represents a subset of employees covered by the indicator 'share of females in senior management positions' presented in the table above.
Transferring diversity and inclusion research to Ipsos
In recent years other organisations have shown an interest in our Diversity Index, partly because its strict confidentiality and data storage and disposal rules enable it to ask about individual personality characteristics, such as ethnicity or sexual orientation, without breaching privacy legislation. During the year we partnered with market research firm Ipsos to market the Index and make it available to other organisations, so that they could benefit from insights into the issues surrounding this important theme. Using our benchmark research, participating organisations can then compare themselves and look into how they can improve.
Continuing to support the fight against loneliness
In 2022 we further expanded our cooperation with municipalities across the Netherlands to tackle loneliness, following the success of a pilot project in Rotterdam in which a number of our parcel delivers and delivery partners have been participating since 2020. As part of the pilot, deliverers have been reporting cases of possible loneliness they encounter during their delivery rounds, which were then looked into by the professional welfare organisation DOCK and the municipality of Rotterdam. The project has now been expanded across 10 municipalities in the Netherlands, including Baarn and Soest, and the aim is to build on a broader national roll-out with several external partners.
Employing people with a distance from the labour market
At PostNL, we aim to reflect the society we operate in and actively pursue a diversity and inclusion policy, which includes offering opportunities to people facing challenges in the labour market. In 2022 we were proud to earn PSO certification, an independent assessment by a certifying institution in the Netherlands, to recognise employers who make a sustainable contribution to the job market. We were placed on level two of the PSO social entrepreneurship performance ladder, which indicates that as an employer we are well above average in offering employment to those with a distance from the labour market. In 2022 we employed around 1850 people with a distance from the labour market across the entire company, either directly or indirectly.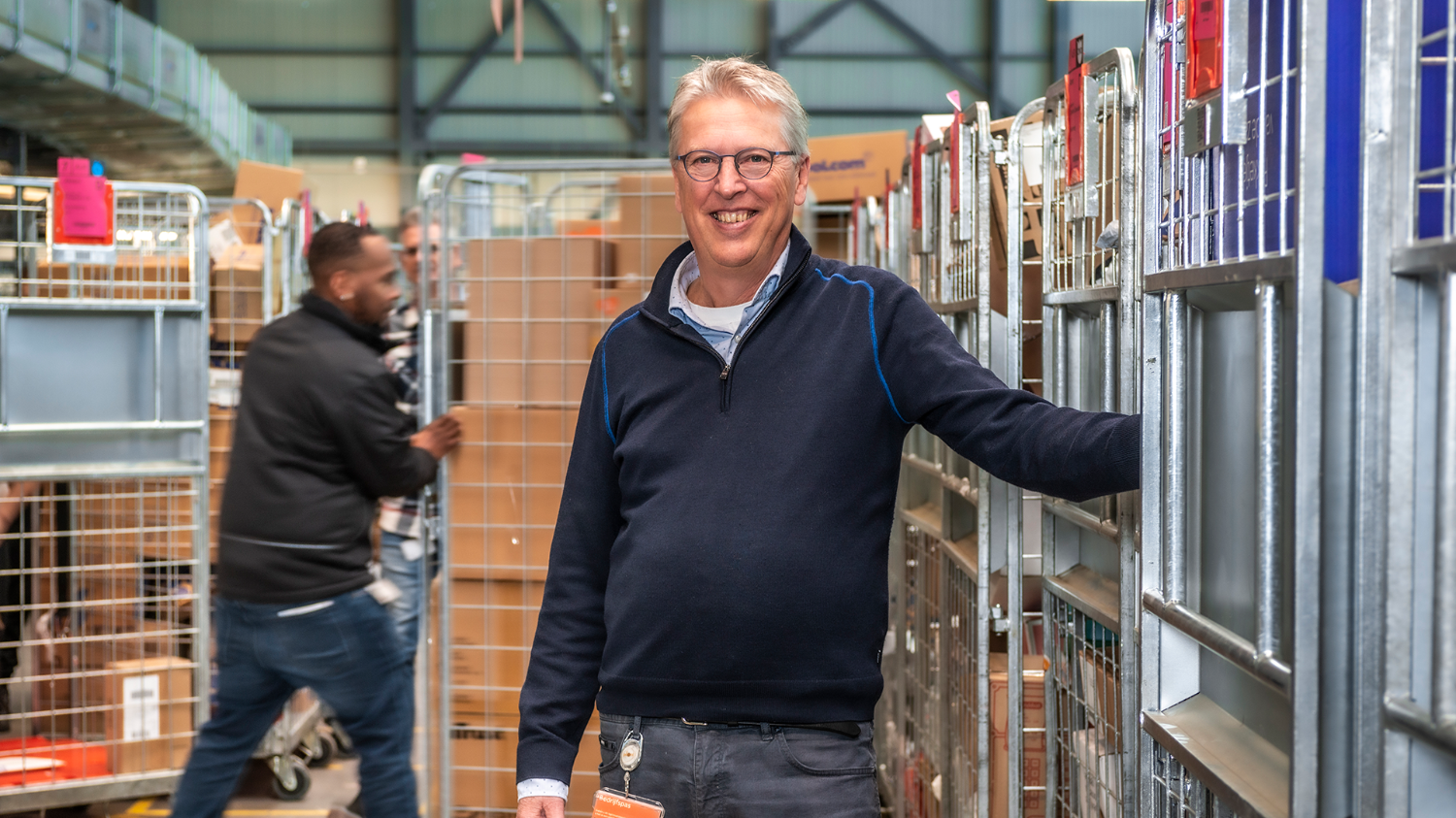 Collaborating with social enterprises
PostNL works with social enterprises across Parcels and Mail in the Netherlands to help give people with a distance from the labour market a fulfilling job. Sipke Plat, who is set to retire after 32 years service at PostNL, is convinced that people with a distance from the labour market can work as deliverers or sorters if they get the right support. "I work closely with social work enterprises in the Netherlands, offering people with a distance from the labour market a suitable workplace that provides them with the right guidance. At PostNL, we offer the target group work as mail deliverers and in our parcel sorting centres, which means that a supervisor from the social work company always supervises the execution of the work. It is clear that if they receive the right guidance, they can work well independently. It is important that people with a distance from the labour market have a safety net, something to fall back on. And that the workplace is adapted to their disability or individual circumstances if necessary."