Respecting Human Rights
At PostNL, respect for Human Rights is an important precondition to be a sustainable company and good employer. PostNL is committed to protect and advance Human Rights and works vigorously to protect people against infringements of Human Rights in its operations. We respect ILO's Declaration on Fundamental Principles and Rights at Work and particularly endorse the UN Guiding Principles on Business and Human Rights.
In 2021 we followed up our Human Rights risk workshop and supplier round table discussion of 2020. Discussions progressed with certain suppliers, for example in exploring to consider diversity in our procurement practices.
At our stakeholder dialogue event in November, we held round table discussions about relevant Human Rights risks within PostNL and in our value chain.
From a selective group of stakeholders, including suppliers, customers, NGOs, investor representatives, and employees, we learned:
It is a topic that led to many questions being raised in preliminary discussions

PostNL has a good understanding of potential risks and seems advanced within the organisation

PostNL has implemented a number of initiatives connected to outsourced transport, and has engaged with delivery partners for many years

Further collaboration with value-chain partners is welcomed, as the topic is garnering greater attention

Transparency could be improved, as it is not clear for everyone which measures we are taking.
We have many safeguards in place, as well as making improvements, throughout our organisation. And on certain areas, such as procurement, we also assess and evaluate human rights practices in our value chain.
While we see this as a solid basis for our practices, the results of our risk workshops and stakeholder dialogues indicate that we can make further steps in taking additional responsibility.
As a result, in 2022 we will start developing and implementing a more structural company-wide approach towards human rights due diligence and management. This will aim at identification, evaluation, and mitigation of potential salient issues.
"In 2021 we followed up our Human Rights risk workshop"
Download spreadsheet
| Elements of PostNL Group Human Rights Policy | Subject covered | Reference to UDHR |
| --- | --- | --- |
| Collective labour agreements | Stimulate trade union and works council participation; work conditions; equal opportunities; remuneration; working hours and rest | Art. 20; Art. 23.1; Art. 23.2; Art. 23.3; Art. 24 |
| Business principles | Slavery; diversity | Art. 4; Art. 18 |
| PostNL Group Statement on Slavery and Human Trafficking | Slavery | Art. 4 |
| PostNL Procurement policy | Freedom of association, work conditions; equal opportunities; remuneration; working hours and rest | Art. 20; Art. 23.1; Art. 23.2; Art. 23.3; Art. 24 |
| Diversity & Inclusion Policy | Freedom of thought, conscience and religion; equal opportunities | Art. 18; Art. 23.2 |
| PostNL pride network | Stimulate LGBT acceptance | Art. 18 |
| Woman Inclusion Network | Support women in equal opportunities | Art. 18 |
| ISO 45001 certification | Work conditions | Art. 23.1 |
| Complaints and support processes | Freedom of opinion and expression | Art. 19 |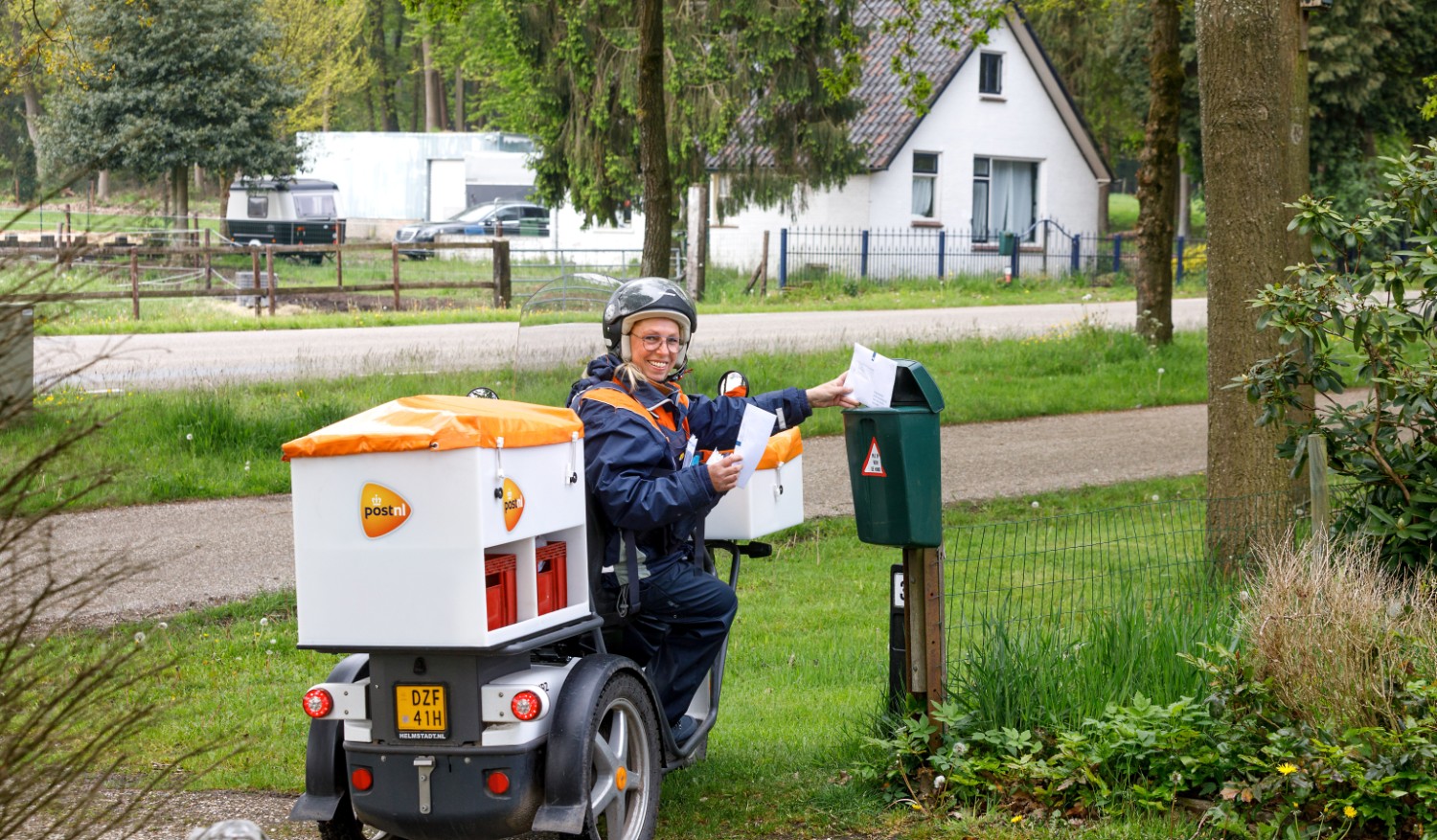 Contributing to a better society
We believe in giving something back to society, in addition to our business activities. Our sponsorship policy aims to help people who need extra support to stay connected with society, and provide our employees with an opportunity to give greater meaning to their jobs. Our employees spend time on a voluntary basis and we donate the use of our materials, equipment and networks. An example is delivering of parcels to those primary schools, participating in the King's Games Sports and Party Parcel (Koningsspelen Sport en Feestpakket). Below are some important initiatives described.
Children's Postage Stamps
In 2021, we again released children's stamps, which we have issued for the Children's Postage Stamp Foundation since 1924. The stamps collect money for projects aimed at the well-being of vulnerable children.
Free delivery - Jarige Job Foundation
We continued to partner with Stichting Jarige Job in 2021. This is a foundation that provides very poor children in the Netherlands with a gift box on their birthday and we collect gifts and donations making sure they are delivered to children who need them. Each year, more than 80,000 children celebrate their birthday with the help of Stichting Jarige Job.
National Elderly Fund
In 2021 we delivered around 230,000 Christmas cards for the National Elderly Fund to elderly people.
National Coalition against Loneliness
PostNL is a proud partner of the National Coalition against Loneliness, a coalition of companies, social institutions and governmental institutions that focus on reducing loneliness in the Netherlands. Through our presence in the heart of society, and the growth of our health activities, we have a great deal of contact with the elderly in their homes and want to help make a difference. This year we participated in a number of initiatives, including a project identifying loneliness. Fifteen of our parcel delivers and delivery partners in Rotterdam participated in a pilot that involved reporting suspicions of loneliness.
Their concerns were then taken up by the professional welfare organization DOCK and the municipality of Rotterdam. The delivers reported several serious cases. This has now been expanded across 10 municipalities in the Netherlands, covering both parcel and mail deliverers.