Mega and market trends
We have identified a number of mega and market trends that are shaping the lives of our customers and impacting our strategy. These trends, and the impact they will have on our business, are detailed below.
Mega trends
PostNL has identified three important mega trends that influence the world in which we operate:
Urbanisation

Aging population

Climate change
Urbanisation is leading to a concentration of people living in cities, which increases the demand on logistics and puts pressure on urban infrastructure. At the same time, the population is aging and people are living longer at home. With elderly people becoming more reliant on healthcare, there is a shift towards health provision at home, which requires a range of (new) logistic solutions.
Another key issue facing society is climate change, with transport playing a significant role in the emission of greenhouse gases (GHG) and negatively impacting air quality, especially in urban areas. Society is looking for solutions and governments are set to introduce restrictions on pollution-causing transport in an effort to both combat climate change and improve health.
Market trends
We have also identified six key market trends that are shaping the needs of our customers and impact our strategy:
Growth in e-commerce

Consumer in control

Digitalisation

Automation and robotisation

Tight logistic labour market

Sustainable logistics
Growth in e-commerce
The continued move from offline to online is leading to rapid growth in e-commerce, with people increasingly making their purchases online. As well as solid domestic e-commerce growth, we see a strong increase in the cross-border e-commerce market. Analysts are forecasting strong annual growth in the global e-commerce market in the coming two to three years.
We are leveraging on these developments to cement our position as the leading e-commerce logistics player in the Benelux, by expanding our delivery options and increasing the number of value-added services we offer. At the same time, we believe our comprehensive networks and coverage across the Benelux enable markets, such as food and health, to grow online. We also see a growing number of peak moments, such as Easter, Black Friday and Cyber Monday, and the annual payment of the holiday allowance. To deal with these developments, we are investing in our networks, increasing flexibility and working with sector partners to launch campaigns designed to spread peak demand over a wider period.
Consumer in control
One of the impacts of digital change is that consumers increasingly expect to see the physical world replicated in the digital world. To satisfy consumer expectations, companies have to go beyond standard last-mile delivery solutions and provide new services. Consumers want to see services traditionally offered at retail locations, such as the sale of stamps or returns solutions, available online, either through our app or website. And they want to be able to update their preferences on the go, using mobile channels to change the time or location of parcel deliveries. For PostNL, this means developing services that connect the digital and physical, so that digital transactions result in seamless physical deliveries.
Digitalisation
Another key market trend is digitalisation. A range of digital alternatives for mail, such as electronic invoicing, social media or other digital marketing services, contribute to declining mail market volumes. At the same time, ongoing digitalisation creates opportunities for us to increase the value we add to customers and consumers, both within Parcels and Mail in the Netherlands. In our Parcels segment, the use of IT and data enables us to help customers better tailor their services to consumer wishes, such as automatic programming interfaces (APIs) and multiple delivery time-frame options. And in our Mail segment, we are adding customer value by offering a range of digital services, such as digital marketing, the stamp code and Mijn Post through our app.
Rapid developments in technology impacts the way businesses operate. Current and future trends that will impact our sector include the use of data , which will help logistics companies manage demand peaks, provide insights into supply and demand forecasts, and help with route optimisation. Digitalisation will also lead to smoother ordering and better payment and delivery processes, creating a more efficient supply chain. We are using technology and data to change the way we run the company and provide our services.
Automation and robotisation
Automation is impacting the logistics industry, with collaborative robotics set to increase accuracy and efficiency within the supply chain. Driven by rapid technological change and greater affordability, robotisation will boost logistics and productivity while supporting 24-hour processes. Robots will adopt complementary roles in the value chain, assisting workers with planning, fulfilment and last-mile deliveries.
The rise of e-commerce requires logistic service providers to operate faster and more efficiently to rapidly process all individual orders. Automation plays an essential role in this dynamic environment. With the majority of logistic solutions still being operated manually, the potential for automatisation is high. We use automation and robotisation in a number of areas, including within our automatic fulfilment services and robotic process automation (RPA) in our administration. As the technology becomes faster, more accurate and more affordable, automation will play an even greater role in our industry in the years to come.
Tight logistic labour market
In our high volume, growing logistics business, effective staffing and planning is a key success factor. In 2019 the continuing low unemployment rate, driven by strong economic growth and an expanding e-commerce sector, made it challenging to fill company vacancies and retain people. Given the strong economic growth predictions, we expect the labour market squeeze to continue. Our commitment remains on retaining people who are well trained, passionate, and who want to make a difference for our customers, by offering training, mentoring and development opportunities.
Sustainable logistics
Sustainability is playing a key role in the way society is changing and the way companies operate. Many are increasingly focusing on the longer term impact of their businesses. PostNL is no different. We take our responsibilities seriously and are concentrating on how we can create a more sustainable company while addressing the wishes of our stakeholders. For example, we are increasingly using low- and zero-emission vehicles, and building very energy efficient sorting and delivery centres. And we have set ourselves ambitious environmental goals for 2025 and 2030, which will result in fundamental changes to the company.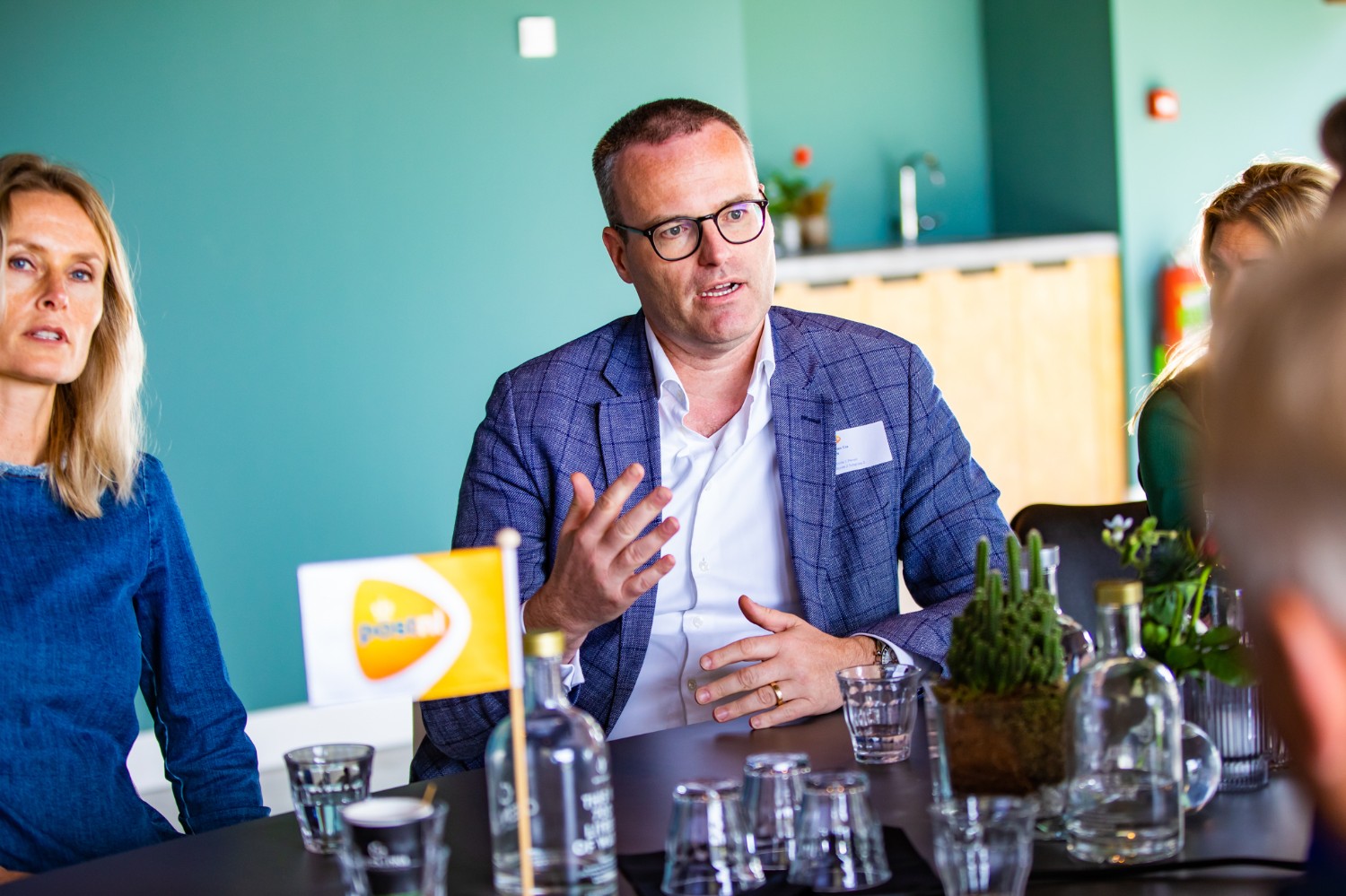 Stakeholder dialogue: pragmatic and useful
The annual dialogue session that PostNL holds with stakeholders took place on 3 October. Jeroen Cox, Senior Manager Energy and Environment, was present on behalf of KPN. "By talking to each other, we can learn from different areas."
Circular economy
"PostNL is an important link in the delivery of our products at KPN," says Jeroen. "We want to improve our impact along the value chain and PostNL is an important partner in this for us, for example in the field of the circular economy. By this we mean using less material, using products for longer and preventing waste. That's why it was so interesting to participate in the dialogue about improving our joint impact on return flows. The collaboration is also laid down in the circular manifesto that PostNL and KPN have signed together."
Common interest
Other topics in which KPN and PostNL have a common interest are city logistics and packaging. "We would like to reduce the impact of our packaging and PostNL is working hard on that. We can also join forces in making our fleets more sustainable. I find it useful that PostNL engages in an annual dialogue with stakeholders on these types of topics. I also appreciated the pragmatic approach, with a number of good ideas, that we will continue to work on in the coming months."